Article by Sarah Barnes, University Housing
Photos: Joel Ninmann
April 29, 2015
Jake Wears, a student from a small town in central Wisconsin, has big dreams that reach far beyond the Wisconsin state line.
"My ultimate goal is to be a filmmaker. I had the chance to do an internship in New York City last semester, and when I was there I had this feeling that it's where I belonged," says Wears. "Ultimately, I want to make films that tell the beauty of the human experience."
Part of Wears' inspiration to reach for his film making dreams comes from an unexpected place – his experiences in his job as a student custodial supervisor with University Housing.
For many student employees just like Wears, University Housing jobs aren't just a way to make extra cash to pay for books and late night pizza; they are a way to build skills that translate into real world success.
As a student custodial supervisor for Smith Residence Hall, Wears works with a wide variety of students and full-time staff in his position; people of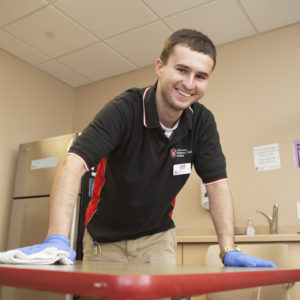 every age and every background. And while his daily tasks focus on making sure bathrooms are clean and trash cans emptied, he's found benefits beyond the mundane.
"I was pretty shy when I got to UW-Madison," he says. "Being from a small place, I knew everyone. Moving into Sellery Hall my freshman year was quite a change. I knew I needed to find a way to get to know people and get comfortable in my new home."
Looking to work close to where he lived, he saw a job opening for a student custodian position in his hall and thought it would be something to try. As a student custodian, he found he rarely worked alone and was almost always in groups of four to five other students working together to vacuum carpets or clean kitchens.
"I found myself gaining close friendships with people I never would have never met had it not been for this job," he says. "I also started connecting with one of my supervisors who filmed quinceañeras on the weekends. We started talking about filmmaking and swapping tips. One weekend, I even helped him film an event. I suddenly found I was opening up and connecting with people in a whole new way that I never expected. I realized these are the types of connections I needed to start making to be a successful filmmaker."
Brenda Krueger, director of human resources for University Housing says that she hears stories like this frequently. "Our former students share that the experiences they gained during their employment with Housing are the same skills and experience their current employers are looking for in ideal candidates."
University Housing employs more than 2,000 students each year in a variety of positions, from House Fellows who live in the halls and create programming and events to dining team members who prepare food in seven facilities across campus. Student employees are a strong element of what keeps University Housing ticking.
Skill development is at the core of Housing's WiGrow program, an engagement effort from the Vice Chancellor of Finance & Administration. WiGrow provides students with opportunities to recognize and enhance transferrable skills that they're gaining through their student positions. Time management, customer service, prioritization, and leadership are just a few of the skills sought by future employers that are emphasized in University Housing. WiGrow's key to ensuring student success lies with the frequent one-on-one conversations between students and their supervisors. In these chats, students set goals, talk about job progress, share feedback, and most importantly become comfortable in a work culture.
"Our supervisors provide a guiding hand and perspective that sometimes students need when they are away from home. Students think the simple task is what the job is about. More often, our supervisors can help them see every job teaches more than just that. They also share how career paths are not always linear. Careers are unique to each person and sometimes hearing that someone else took the road less traveled is helpful," says Krueger.
That's what Wears experienced as he continues in his employment with Residence Hall Facilities. "It was my supervisor who really saw me come out of my shell and suggested that I apply for the student supervisor position. And to my surprise, I got it."
Wears takes the responsibility of helping to grow and develop his team very seriously. "I've now been able to help custodians on my team reach their own goals, and it's pretty fantastic when you see that happen before your eyes. We have a job to get done, but what matters the most are the people and friendships you gain. I will hold onto that forever."
University Housing values diversity and is an Equal Opportunity/Affirmative Action employer. Housing does recruitment and hiring for variety of student positions throughout the year in administration, dining and culinary services, information technology, residence hall facilities, residence life, and University Apartments.