Since its beginnings in the mid-1900s, Elizabeth Waters Dining Room has been a staple on the UW-Madison campus. Students, faculty and community members have gathered here to enjoy a break from a busy day on campus with extensive, high-quality food options and a unique view of Lake Mendota. As the campus community evolved throughout the 20th and early 21st centuries, the Elizabeth Waters Dining Room evolved while retaining its historic charm. The recent renovations to the dining hall, including a renaming to "Liz's Market," will put the venue on a path to success in the years to come.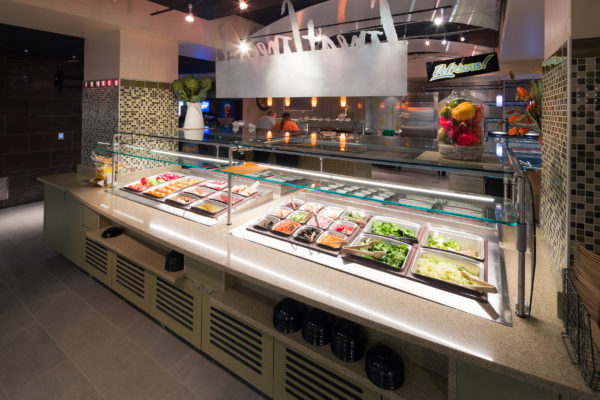 The recent renovations included upgrading the facility to the marketplace-style dining experience common in other University Housing dining venues across campus, which lets customers choose anything from American comfort food at 1849 to flavors from around the world at Global Kitchen. Associate Director of Dining and Culinary Services Julie Luke explains that this style of the dining experience is popular with today's customers, who enjoy the personalized, made-to-order style similar to off-campus dining options. "The trend is preparing items custom-made for a customer and doing it in front of them. We always had quality offerings, but the new marketplaces have given the food a more retail and contemporary feel."
Waters Residence Hall's unique place on campus means more faculty and community members visit Liz's Market. "I'm always surprised because I see a lot of my professors and TAs congregate at Liz's Market for lunchtime, especially," explains UW-Madison senior and Waters Hall House Fellow Alyx Vogle. Since the renovations, she shares, "I've been seeing a lot of past residents or people I know outside of the residence hall visit."
In order to accommodate more customers efficiently without long waits at the registers, Liz's Market has gone "cashless," allowing customers to pay with their credit cards, debit cards, and Wiscard but not with cash. There will be computer kiosks located in the market if students wish to deposit additional money onto their Wiscard. This new system means customers are able to get through lines more quickly than before the renovation.
Additionally, an extended serving schedule allows customers to purchase food from the grab-and-go, salad bar, soup station, and Delicious between lunch and dinner for busy students and faculty.
Liz's Market now offers an expanded selection of healthy options and vegan choices, and the food it produces is free of common food allergens including tree nuts, peanuts and shellfish. With these enhancements, Vogle finds the hall appeals more to future residents with dietary restrictions. "I've talked to parents and incoming freshmen, and they don't have to worry about being exposed to anything. People don't have to go into apartment living or not be a part of the hall experience because of that."
Vogle appreciates that, with the renovations, Liz's Market has not lost its charm. "I love the new set-up, and that they've kept my favorite place, the window area with the view of the lake. It feels a lot like home."