On Saturday, April 22 University Apartments welcomed over 300 residents celebrating our annual Bike Festival with an additional bonus of Earth Day awareness and activities.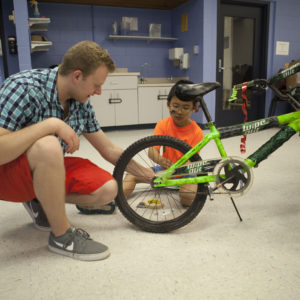 110 bike helmets, donated by the Office of Child Care and Family Resources as well as the University Apartments Assembly, were distributed along with free bike repairs, tote bags, bike bells, biking information, guides and maps.  Residents were also treated to face painting, music, and healthy go breakfast, and a special mountain bike obstacle course set by our friends at Revolution Cycles.  Children (and parents) put forth their creativity making bird feeders for our flying friends and clay pot painting with soil and seeds to take home.   Keep a look-out for your neighbor's fresh herbs.
Though the festival has come to an end, we'd like to encourage our community to keep going green-reduce, reuse, recycle, and yes, ride on fellow bikers!
This event would not have been possible without our community partners of Budget Bicycle, Revolution Cycles, Red Village Church, WI Bike Federation, Office of Family Child Care and Resources, University Apartments Assembly, University Wisconsin Police Department, UW Transportation Services, and WE Conserve.  We would like to thank them all for their tremendous contributions and support.