Residents can securely store bicycles indoors on racks in University Houses. Racks are located in basements of buildings 5, 10, 21 and 30. There are 10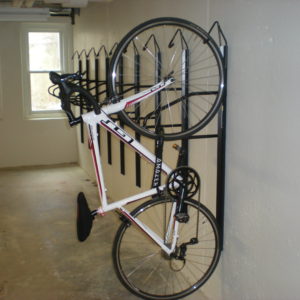 racks in each of the buildings.
The racks are wall mounted and lockable, but residents must provide their own locks. There is no charge to use these racks, and they can be used on a first come, first serve basis.
To store your bicycle properly, it should be hung by the front tire, as shown in the picture. The racks are designed to accept all types of bicycles. Please let us know if you have any questions.