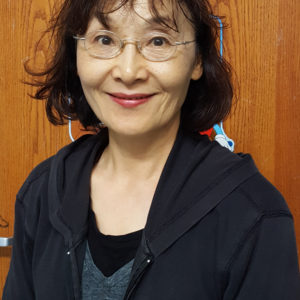 Eagle's Wing is so very pleased to share Wonhee Chung with you.  Wonhee has been with us since 2005 and is one of our dedicated Early Childhood Teachers.  Wonhee quietly works her magic with young children.  She is loving and caring and helps even the most anxious of children to know that here they are cherished, they are safe, they can make friends and have lots of fun!  All of Wonhee's colleagues admire her calm, nurturing and gentle spirit.
Wonhee was born and raised in Daegu South Korea.  There she attended the university for her bachelors degree.  Later she obtained her Masters in Fine Arts in Ohio.  Wonhee also holds a Wisconsin Department of Public Instruction teachers license.
Family is very important to Wonhee.  It was in South Korea that Wonhee met her husband – his older sister introduced them to each other.  They have been married now for over 30 years.  Together she and her husband have 3 children, two sons and one daughter, all grown.  All three live in New York and have started their professional careers.  Their first son has recently graduated with his masters from Columbia and is in Computer Sciences.  Their second son works with 3D animation and their daughter is an accounting consultant.
Wonhee loves to travel, so now has a reason to visit New York annually.  They love to spend Thanksgiving in New York and the children all come back to Madison for the Christmas holidays.  Besides traveling, Wonhee loves to listen to music and take walks.  You'll often see her taking a quick walk around University Apartments during her breaks.
Wonhee works with her Yuwa Room 2, 3 and 4 year olds in the mornings.  During the academic year, you will find Wonhee with our Glider, after-school children.  During the summers, Wonhee works with our preschool children in the Niiji Room in the afternoons.  She gets the best of all worlds with toddlers, preschoolers and school-agers, all of whom she is very skilled in working with.  Wonhee has said that what she loves best about working with Eagle's Wing is the teamwork that is enjoyed by the staff.  "They take good care of each other and have such good relationships with the children."
With all of her experience as a mother and a teacher, Wonhee's best advice to parents is to "love your children consistently".  We are so very fortunate to have Wonhee with us, where she demonstrates every day her consistent love for children!