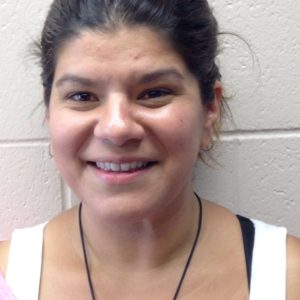 Eagle's Wing is so proud to introduce you to Cindy Rosas-Bridges who started with Eagle's Wing over 20 years ago. In 1996, when Cindy was in High School, she first came to us. At that time Eagle's Wing was located in building 401 so Cindy has been with us through several big transitions.
In 1999 when Cindy was studying here at UW, she worked with us in a Student Hourly position. Cindy seemed to find her calling with us and developed a strong connect with our young children. She actually changed her major from Elementary Education to Human Growth and Development and completed an internship in our HaNeul classroom with 3 and 4 year old children. Cindy had discovered that it was so much more meaningful to be in an environment with children as they learned through play and were actively engaged throughout the day as opposed to being with children who needed to sit at desks and follow a more teacher directed approach to learning.
We hired Cindy as one of our professional full time academic staff in 2003. Since then Cindy has provided an outstanding educational program for our toddlers. She has a strong work ethic and is dedicated to the children in her classroom as well as her colleagues. We were so very fortunate to have Cindy work together with co-teacher Tera Sarow to set up our new Infant Program in 2015.
Cindy's family is very important to her – her eyes absolutely light up when she talks about them. Cindy's husband Dave is a Madison firefighter. In addition, he is an apparatus engineer and a chief's aide. Together, Cindy and Dave have 3 amazing children. Daejah is 16 and will be a senior at East High School. Cindy admires her daughters ambition, her ability to set goals and her determined follow through. D.J. is their middle child and will be in 7th grade at Sherman Middle School. D.J. is the best big brother ever. He has a huge heart and really looks out for his little brother Devin who will be starting kindergarten at Hawthorne School in the fall. Cindy refers to Devin as their free spirit, with great energy who can make everyone laugh. Cindy spends every free moment with her family – they enjoy water play, walks and cookouts.
The tidbit of advice from Cindy to other parents is to "enjoy every precious second with your children. They will become adults in the blink of an eye. Take every chance that you can to enjoy your children."