Last month I spoke about the Crime Equation (OFFENDER+VICTIM+OPPORTUNITY=CRIME). This month I want to discuss the realities of my job and the other police officers who serve you in this community. In August and September we have 4 thefts occur here in the community. They were either bicycles or packages taken from outside apartments. In all of these cases the items missing were unsecured and unattended.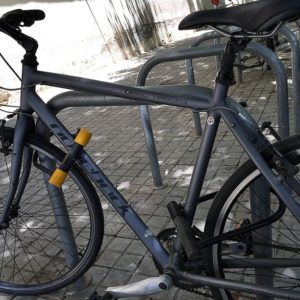 When it comes to your bicycles please remember to lock them to a bike rack. If you need assistance in getting a bike lock please feel free to contact me. I recommend a good U-lock over a cable lock, but any type of lock is better than no lock at all. Unsecured bicycles give OFFENDERS the OPPORTUNITY to make you a VICTIM.
As to the packages being taken this is a good chance to discuss getting to know your neighbors. Many people here are busy with school, work, kids, and life in general. This often affords little time to meeting your neighbors beyond a quick hello from time to time. However, if we all took a few minutes to move from quick acquaintances to friendly neighbors people would be more likely to keep an eye out for each other. That way if you know a package is going to be delivered you could have a neighbor take it off the porch for you and hold it until you get home. A friendly neighbor becomes a GUARDIAN in the community and can help reduce the OPPORTUNITY of an OFFENDER making you a VICTIM. In turn you could be a GUARDIAN for them and so one.