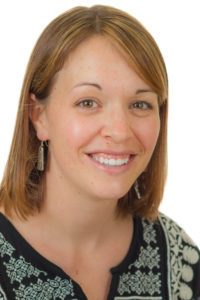 My name is Ellie Squire, and I am one of the new assistant directors at Eagle's Wing Child Care and Educational Programming. I am originally from Wisconsin and am a proud alumnus of UW-Madison. I earned my undergraduate degree in elementary education here in 2004, and went on to teach kindergarten in two local school districts for 10 years before finding my way to Eagle's Wing. I became a teacher in the HaNeul room in 2015 and quickly fell in love with the program, the teachers, and the University Apartments community.
I earned my master's degree in Educational Leadership in 2011, so when there was an assistant director vacancy, it was a natural step and a great opportunity for me. I am passionate about the importance of high quality, developmentally appropriate early childhood education, and I look forward to supporting the teachers and families at Eagle's Wing. I am so proud of our inclusive, anti-bias approach and I can say without reservation that this is a great place for kids to be. In my role, I will primarily be supporting the preschool and school-age classrooms, and I am the enrollment coordinator for the center as a whole. 
When I'm not at work, I love spending time with my kids, Sam (6) and Lucy (4), and the rest of my family. I like being outside and try to take advantage of all that Madison offers in this regard. Please stop in or email me at ellie.squire@housing.wisc.edu at any time! I look forward to working with you.