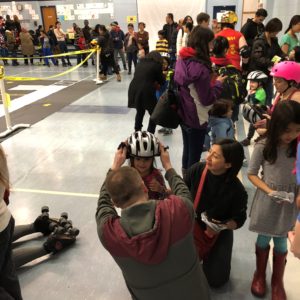 On April 14, University Apartments welcomed approximately 200 residents to the annual Bike Festival. While the weather was not very spring-like outside, we helped to prep residents for spring weather.
The Mad Rollin' Dolls Madison's Roller Derby team distributed and fitted approximately 125 bike helmets, which were donated by the Office of Child Care and Family Resources as well as the University Apartments Assembly, to children in the community. If you missed out on a helmet, you can get them for a reduced cost of $10 at Kohl's Safety Center at American Family Children's Hospital. 
Free bike repairs, water bottles, biking information, guides and maps were also part of the program. Residents enjoyed face painting, bingo, a bike safety and obstacle course, photo booth, music and healthy to-go food.
Our friends at UWPD would like to encourage our community to register their bicycle with them and their partners Bike Index here. Bicycle theft is one of the most common crimes on campus and registering your bike, using a sturdy u-lock, and always call 9-1-1 if you see suspicious activity.
This event would not have been possible without our community/campus partners of Budget Bicycle, Revolution Cycles, Down with Bikes, Madison BCycle, Red Village Church, Mad Rollin' Dolls Madison's Roller Derby, Office of Child Care and Family Resources, University Apartments Assembly, UW Police Department, UW Transportation Services, I9 Sports, Wisconsin Center for Academically Talented Youth (WCATY), Madison Metro, Kohl's Safety Center, and Bucky Badger.