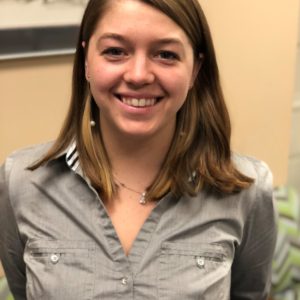 Hi! My name is Brittany Brennan, and I am the new part-time Administrative Support Specialist at the University Apartments Community Center.
I grew up in Kenosha, Wisconsin, on the sandy shores of Lake Michigan. I came to Madison in 2009, where I earned degrees in History and Anthropology from UW-Madison and a postgraduate degree focused on Exhibit Design. After graduating, I worked for UW Pathology assisting with their graduate program, as well as the Wisconsin Historical Museum, before my husband and I moved to Champaign, Illinois. However, it wasn't long before the irresistible pull of Madison's beautiful lakes, people and delicious food brought us back!
In my free time, I love creating. Whether it's graphic design, re-upholstering found furniture, or renovating my house, there's nothing better than making the world more fun and beautiful. I also enjoy wandering through the national parks, biking through the solar system, romps around the dog park with my husband and my lovely Lily dog, and traveling the world.
I'm excited to be a part of the University Apartments team, and I am looking forward to working alongside everyone else to keep things running smoothly. I love to help in any way I can, so please stop by the Community Center or drop me an email at brittany.brennan@housing.wisc.edu any time!