By Anna Ostermeier
This May over 7,500 students moved out of the Residence Halls during an 8-day period, along with all the items that helped their hall feel like home. Thanks to the Sustainability Move Out program organized by University Housing, their unwanted items did not go to waste.
Sustainability Move Out is an initiative to divert waste from the landfill, educate event participants on sustainable behaviors, and support the goals of campus and community donation partners. Each year 10 collection sites allow residents to donate and recycle their unwanted items. The sites are staffed by students, professional UW staff, and community member volunteers. The volunteers monitor sites, answer residents' questions, organize donations, and deconstruct futons for recycling.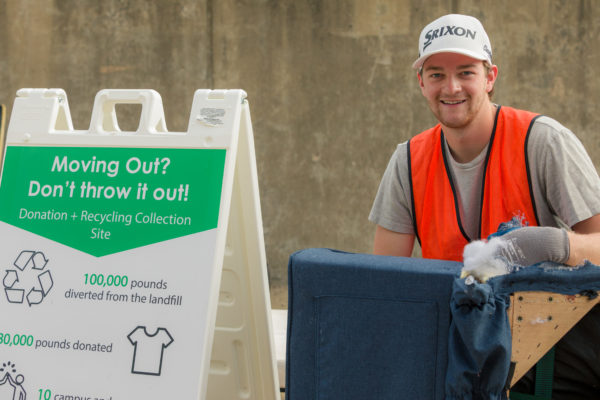 This year the collective efforts of 143 volunteers, Housing, UW Physical Plant, the Office of Sustainability, 10 non-profits, two recycling partners, and two courses kept over 109,000 pounds of materials out of the landfill. Despite several days of heavy rain causing damage to items, this collaboration enabled 38% of move out items to be donated or recycled.
Housing engaged 81 students from sustainability courses to apply what they learned over the semester during move out. These students provided 60% of the 614 volunteer hours, playing a large role in making this event a success. Because many of these students are underclassmen, their volunteer experience encourages a culture of sustainability on campus.
In addition to fostering Housing's core value of stewardship, the program is also financially responsible. By donating and recycling items rather than dumping them in the landfill, campus saved $2,650 in landfill fees and gained $482 in revenue from recycling metal. The program also has positive financial impacts for future Housing residents and the community. 168 futons and 351 area rugs were made available to community members, enabling the reuse of these items rather than buying them new. 165 microwaves donated during the event are being held for low income and international students in the Fall as well as University Apartment residents.
Sustainability Move Out also provides social benefits for the campus and beyond by supporting the goals of non-profit donation partners. This year nearly 2,000 pounds of food donations from residents will help The Open Seat pantry provide for food insecure students. 56,654 pounds of clothes, housewares, books, and more donated to St. Vincent de Paul, Goodwill, and Salvation Army supports their goals of helping those in need.
Not only is sustainability a priority during move out, Housing also actively incorporates sustainability into programming and infrastructure year-round. As a result of promoting sustainable behaviors, Housing increases the impact of Sustainability Move Out. The quantity of items donated and recycled during move out is evidence that Housing residents understand the value in living sustainably.