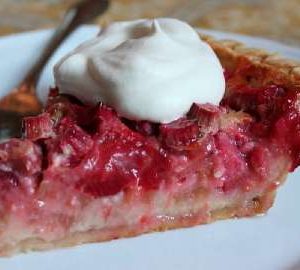 Submitted by Mary Murray
A couple weeks ago, my two best friends from high school came for a weekend visit. Even though we've been separated for decades by marriage/career/child rearing, in some ways it was like picking up where we left off.
We enjoy reminiscing about our daring feats of amazing courage when we were 17, including midnight raids on neighbors gardens. We weren't destructive or excessive, but if it was midnight and our parents were asleep and we could see the ripe tomatoes glowing under the moonlight in the neighbor's yard, well, as our parents used to say "nothing good happens after midnight."
The first thing to be sampled each year was rhubarb. An herbaceous perennial, the long, rosy stalks are edible but the leaves are terribly poisonous. This plant, for thousands of years has been known to have certain medicinal properties: think spring tonic … internal cleansing … but let's face it, it's so sour that in order to be edible you pretty much have to drown it in sugar which isn't all that conducive to internal health. Deal with it. It makes great pie.
Perhaps if the rhubarb harvest happened later in the summer, we would overlook it in favor of things like summer squash and green beans. But after the long winter of endless root vegetables, there's something about walking past the tiny little spinach sprouts in your garden and pulling out an armful of firm, juicy rosy rhubarb stalks. It's a holy moment for me. Apparently I'm not the only one who feels that way.  Centuries ago rhubarb was as revered as diamonds, pearls, musk and satin on the trade routes from Asia to Europe.
Here is a pie recipe that's been in my family for generations. It is simple and quick. Served with a dollop of whipped cream and a good cup of coffee it will warm your winter weary soul.
Rhubarb Custard Pie
3 cups of rhubarb, diced
2T flour
¾ c brown sugar
¾ c white sugar
¾ c half and half or heavy cream
3 eggs
1 unbaked pie shell (pastry, not graham cracker)
Spread chopped rhubarb over entire crust. Mix together flour and sugars. Beat in eggs and cream until all smooth. Pour over rhubarb and spread evenly so rhubarb is as immersed in custard as it could be. Bake at 350 for 45 minutes to an hour (until custard in center is not runny).