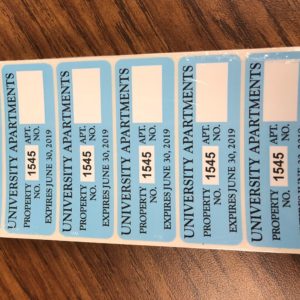 The new property stickers are now available. They are a different color for the 2018-2019 lease year, so please come and collect your stickers. This helps us keep the community clear of abandoned items and creates more room for residents.
If you will be traveling for extended periods this summer, please make sure your property stickers/labels are up to date (including on your bicycle) before you leave. All yellow property stickers expire at the end of June. Everyone needs to place new stickers on their stored items. You can pick up new property stickers at the community center.
You can review the storage policy for University Apartments here.