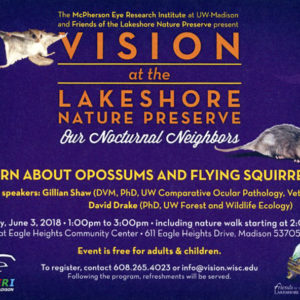 Come and learn about the creatures that move around us in the night. On June 3, a program, held at the Eagle Heights Community Center large gymnasium, will feature short presentations on the opossum and the flying squirrel by comparative ocular pathologist Gillian Shaw and wildlife ecologist David Drake. The event will be followed by a nature walk in the preserve. 
Refreshments will be served. The program starts at 1 p.m., with the nature walk beginning at 2 p.m.
Adults and children are welcome and the event is free and open to the public. To register, contact 608-265-4023 or info@vision.wisc.edu. The program is co-sponsored by the UW McPherson Eye Research Institute and the Friends of the Lakeshore Nature Preserve.