Thomas Ramirez
We are proud to announce that Thomas Ramirez has moved from working with the UA Custodial team to working with our UA Trades team as an FRW-Advanced. Thomas will be assisting the trades and grounds team as needed. Thomas has worked with UA for two years now and we are very excited for his new role. When Thomas is not at work he enjoys western and war movies and spending time with his children and grandchildren.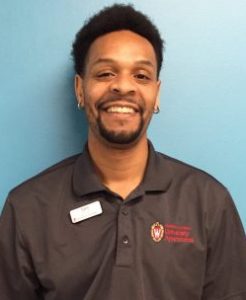 Sam Bester
With Thomas Ramirez's transition to the facility repair team, we are excited to announce that Sam Bester will be working full time at UA's Community Center. Sam started with UA in February 2018, transferring from main campus where he worked on third shift. Since February, Sam worked in the apartments. Sam's new Community Center shift will be Monday through Friday 5 a.m. to 1:30 p.m.
When Sam is not at work you will most likely find him at the Shell playing basketball. Sam is most proud of his twin boys, Jayceon and Masceon, who love playing basketball with him. And, we do our best to not hold it against Sam that he is a Viking fan.
Sam's dedication to his job and his initiative make him a perfect match for this role in our community. Please be sure to welcome Sam as he makes this transition. Sam, thank you for all your hard work!