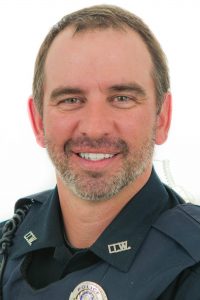 Brad Davis
UWPD Community Officer
My name is Brad Davis and I'm excited to be your new Community Officer. I have been with UWPD for almost two years. Not only am I your Community Officer, but I'm also a bike officer, a training officer, a member of our personal protection team, and a crowd-control team leader.
Before I came to UW-Madison, I served in the Army as an Infantryman. I was also in sales and taught golf. I have my Bachelors in Criminology and my Masters in Public Administration and Public Policy from John Jay College in New York.
I enjoy soccer, golf, travel, and my family. My wife, who also works at UW-Madison, and I have two kids: our 4-year-old daughter, Charlie, and our 9-month-old son, Jack.
I look forward to meeting you and serving this amazing community. I'm excited to meet your family and help to create some great programs for you and your family to enjoy. Please stop by my office at any time, my door is always open.
Alexa Mayer
ACUHO-I Intern
Heya! My name is Alexa Mayer (but feel free to call me Lexa or Lex) and I use she/her pronouns. I'm an ACUHO-I (Association of College and University Housing Officers-International) intern working with the University Apartments until August 2. While I'm here, I'll be working on some projects that will benefit the community, as well as getting to know all of you!
I'm currently getting my Master's degree at Indiana State University in Student Affairs in Higher Education. Indiana State University is located in Terre Haute, Ind., and is also where I got my Bachelor's in Psychology. I'm originally from the northwest suburbs of Chicago – a town called Buffalo Grove.
I love all things music – I sing, play various instruments (guitar, piano, and harmonica), and just enjoy how music makes people feel. I really enjoy being outside and spending time in nature, so I'm excited to be so close to the water. I'm in the front office Monday through Thursday, from 9am-5pm, so please feel free to stop by and say hello! I'd love to get to know you all.