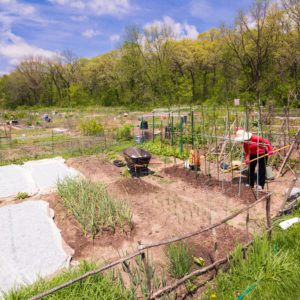 We are still accepting applications for garden plots at the Eagle Heights and University Houses gardens for this year. Applications can be filled out and submitted on-line, or you may print one from the web site and drop it off at the Eagle Heights Community Center, along with your check for the fees. You may also pick up paper applications, in English or in Chinese, at the Community Center.
The web site is www.eagleheightsgardens.org
Both small and large plots are available. Large plots at Eagle Heights are about 20' X 25' (6 X 8 meters), and small plots are about half that size. University Houses plots are slightly bigger. Eagle Heights plots must be gardened organically, but University Houses has both organic and non-organic sections. For residents of Eagle Heights, Harvey Street, and University Houses, large plots are $32 and small plots are $20.
Please note that we cannot accept cash, credit cards, or starter checks. (Those are checks without account numbers, or printed names and addresses.) However, we do accept personal checks, money orders, and cashier's checks, from banks, credit unions, the post office, or convenience stores. Be sure to write your name on the money order. If you have a friend write a check for you, please attach a note to the check with your name, so we can connect the check to your application. Your application will not be complete until we receive your payment for the fees.
The gardeners who had plots last year will have until Feb. 15 to renew their plots. After that, we will start assigning plots to new gardeners. We usually have about 200 garden plots available to new applicants.  Generally, everyone who applies before May will be able to get a plot without having to be on a waiting list.
Opening day for our gardens will be March 21.
If you have any questions about the Gardens or the applications, please contact the Gardens Registrar, at ehgardens@rso.wisc.edu