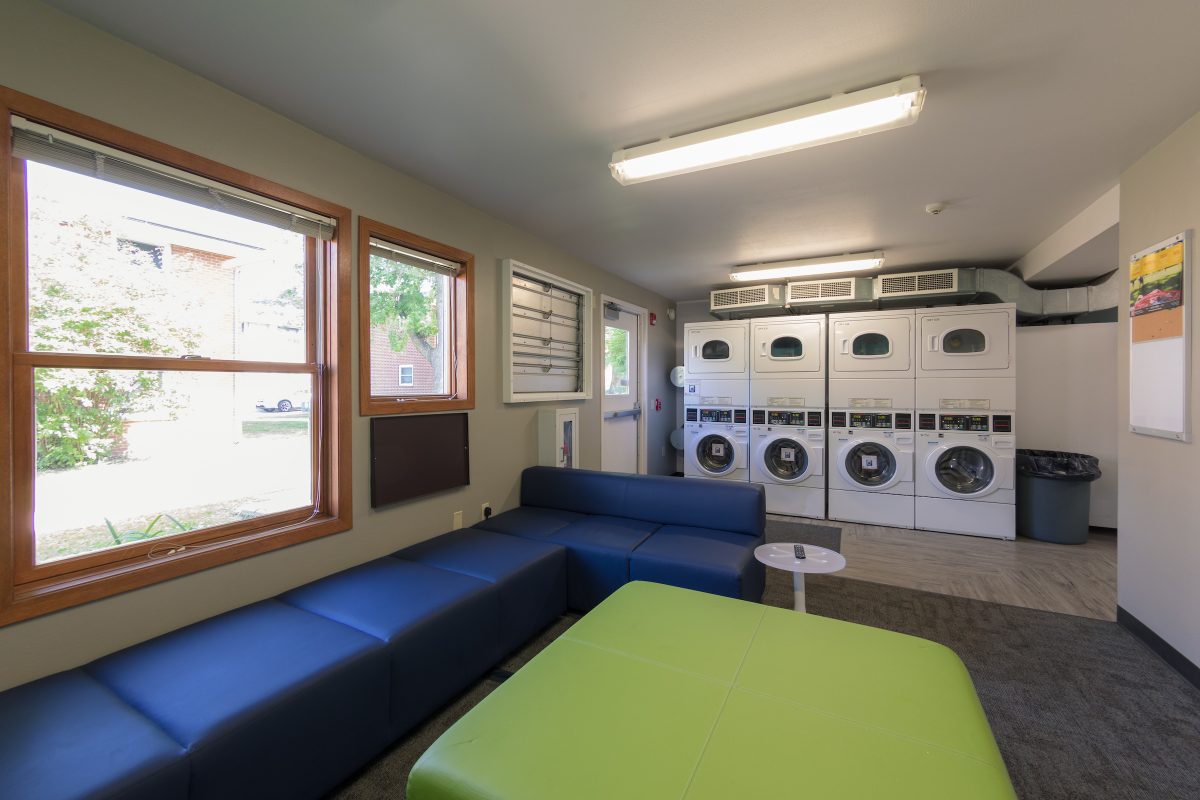 Laundry is personal. Everyone does it, and everyone has their own thoughts on how it should be done and it is one of the most common disputes between neighbors in our community. In an effort to help eliminate conflicts, below are our community expectations regarding laundry room usage:
Laundry should be done between the hours of 8 a.m. and 10 p.m., (because quiet hours are from 10 p.m. to 8 a.m.).
Remove your laundry promptly, so others can use the machines without having to handle your items.
Be respectful of other people's belongings. Never put someone else's clothes on the floor. Don't remove clothes before a cycle is complete.
TAKE CARE OF OUR MACHINES BY FOLLOWING THESE GUIDELINES
Never use dye in the washer.
Remove lint from the lint tray after using the dryer.
Leave machine doors open after use to prevent mildew.
Do not overfill the machines. Overfilling the machines does not allow them to work efficiently and causes wear over time.
UA machines are High Efficiency (HE), which means you should use detergents labeled High Efficiency. If you are using standard detergents, you can use less detergent to accommodate the HE machines.
When washing small items (baby socks, wash cloths, etc.), please use a garment bag to corral them so that they don't get lost.
Please help keep the laundry room clean. You can help keep the laundry room clean by wiping/sweeping spills, picking up trash, recyclables, or lint and wiping the machines or other hard surfaces. Finally, if something is broken, please let us know by filling out a request online (http://repairs.housing.wisc.edu) or by calling the Apartment Facilities Office at 608-262-2037. Please be sure to include what number is on the unit that is not working (numbers are posted on each individual machine). If you have time, please post an "Out of Order" sign on the machine so that others know it's not working properly.
IS IT OKAY TO REMOVE OTHER PEOPLE'S CLOTHES FROM THE MACHINES?
If someone leaves their items in the machine for a long time, it is OK to remove them. We ask you to be respectful when handling someone else's items, and only do it when you have given them time to come collect them on their own. If you do not want people to touch your items, we recommend setting a timer and being early to get your items out of the machine.
CAN PEOPLE WASH THEIR SHOES IN THE MACHINES?
If your shoes are labeled as machine washable, then it is okay to wash them in the machines. In general, if you have items that are labeled as "machine washable," it is okay to wash them in our machines.
CAN PEOPLE WASH UNDERGARMENTS IN THE SHARED MACHINES?
Yes. We expect that people will need to wash their undergarments, and it is fine to wash them here at UA.
CAN PEOPLE WASH REUSABLE/CLOTH DIAPERS IN THE MACHINES?
Remove all solids and flush them down the toilet. Rinse diapers before putting them into the machine. Be sure not to overfill the machine, as this may it to not work effectively, thus your diapers may not become fully clean.
CAN PEOPLE WASH COMFORTERS, QUILTS, AND OTHER LARGE ITEMS IN THE MACHINES?
If the item is machine washable, and fits in a standard size load, then yes. If the item is large or bulky, we recommend going to a local laundromat to use a larger, industrial size machine.
IS IT OK FOR PEOPLE TO STORE THEIR LAUNDRY EQUIPMENT (DETERGENTS, BASKETS, ETC.) IN THE LAUNDRY ROOM?
Some people choose to do this, and that is fine. We are not responsible for lost, damaged, or stolen items. If you have questions, comments, or suggestions about laundry, please contact the resident manager assigned to your area.
If you have questions, comments, or suggestions about laundry, please contact the Resident Manager assigned to your area.