The Divisional Diversity, Equity and Inclusion team is hoping to collect and feature different recipes and stories from you to be featured in the staff newsletter. Food is a shared language and we hope to connect with each other through this project. We hope to create a recipe book that we can add to and share with each other. Please fill out this online form or fill out a paper copy (supervisors, please print this form located here). Here's the first one:
Jajangmyeon (Korean) | Zhajiangmian (Chinese) | Recipe & Story from Cleda Wang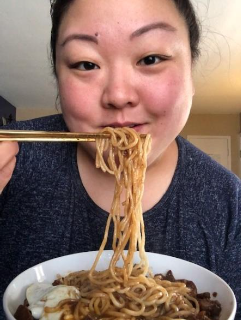 This literally means fried sauce noodles. I'm Chinese-Taiwanese-Korean American and I grew up eating Jajangmyeon. My father is Chinese-Korean and grew up in South Korea with other Chinese immigrants in S. Korea. He delivered thousands of bowls of noodles as a kid in his neighborhood. I love it because it's a fusion of several cultures, which is also me –I'm multiethnic and I feel like this dish represents my identities. I've lived away from my family (who live in Texas) for 14 years now and visit my family twice a year. Every time I visit, my father makes me a bowl of Jajangmyeon as my first meal because it's my favorite. Recently, he told me that traditionally the dish does not include fried eggs on top because eggs were not easily available in S. Korea at the time this dish was prevalent. He shared with me that a lot of elders are so thankful for eggs on top of the noodles because it was for special occasions. So he always adds two eggs over medium for me because my visit home is a special occasion.
Ingredients
Cooking Oil (vegetable/canola/avocado) 1tsp
1/2 cup diced yellow or white onion
1/2 cup of zucchini or potato or both, diced
1/2 -1 cup protein (can be mushrooms if you want to stay vegetarian); I use beef, chicken, or shrimp
1-2 tbsp of Black Bean Paste (Chunjang)
Jajangmyeon Noodles
Black pepper/chili flakes (optional)
Garnish (optional): eggs over medium, cucumber
Directions
Place pan (with a lid to use later) on stove; medium heat.
Once pan heats up, place your oil in the pan.
Then place your chopped onions in the pan and let it cook until a little translucent.
Then add your protein (or mushroom).
If using meat, let it cook all the way/browned (red meat).
Create a circle in the middle and place the black bean paste in the middle. Stir it in the circle to make sure it cooks.
Then add zucchini/potato/both. Stir everything together.
Make sure you turn the heat down a little and let everything simmer but putting lid on top of the pan. This is the dry version of this recipe and you'll get water from the vegetables sweating. 10 minutes minimum. If you want it more saucy, you can add corn starch slurry—but you really don't need it. The dry version gets a lot of natural water and starch from the vegetables!
While the vegetables sweat, cook your noodles based on package directions. One cooked, strain and rinse with cold water to rinse the starch. Place in bowl.
Also, make two fried eggs (to your liking—I like over medium, my dad likes sunny side up).
Then start plating. Spoon the sauce over the noodles; I do about 2-3 serving spoonfuls.
Add garnish on top. I crack black pepper on top.
After taking pictures, you can mix everything together. Enjoy!
Upcoming Holidays & Observances
February 25 –March 1: Intercalary Days – celebrated by people of Bahá'í faith, focused on hospitality, charity, giving gifts and preparing for the month of fasting.
March | Women's History Month (est. 1987)
March 1: Lailat al Miraj – a Muslim holiday that commemorates the ascent of the Prophet Muhammad into heaven. Typically celebrated at sundown on February 28.
March 1: Mardi Gras – the last day for Catholics to indulge before Ash Wednesday; associated with the carnival celebrations in New Orleans, LA.
March 2: Ash Wednesday – the first day of Lent on the Christian calendar
March 3-5: Losar, the Tibetan Buddhist New Year – a time of renewal through sacred and secular practices.
Dates from Seramount