University Housing offered a limited number (similar to this year's returner numbers) of on-campus housing spaces to current residents for academic year 2023-2024 in October and November 2022. Unfortunately, we have now reached our capacity for returner contracts for next year. Since our returning process has now ended, students still in need of housing for academic year 2023-24 should pursue off-campus options. There are services at UW-Madison to help students find off-campus housing, such as the Campus Area Housing Office.
Each year, many students choose to #LiveWithBucky and return to live on campus again so they have more time for the things that matter to them, like studying, friends, and fun. As you research your living options for next year, consider all the ways living on-campus sets you up for success.
Why Live On Campus?
When you #LiveWithBucky, you'll get another year of an environment built for and invested in your success, unlike an off-campus apartment.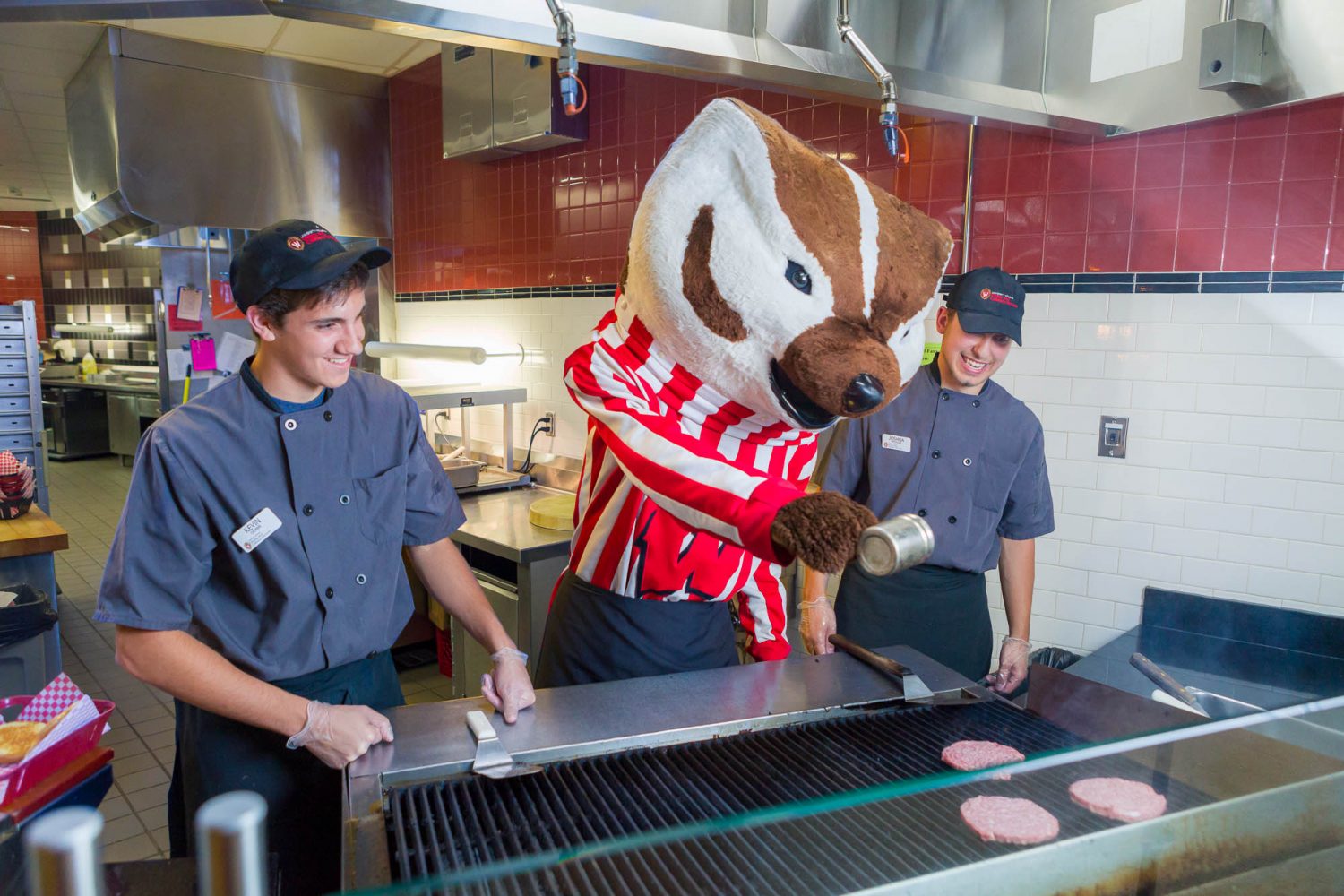 Dining Options
Skip the hassles of cooking and grocery shopping, and enjoy convenient dining in any of our locations.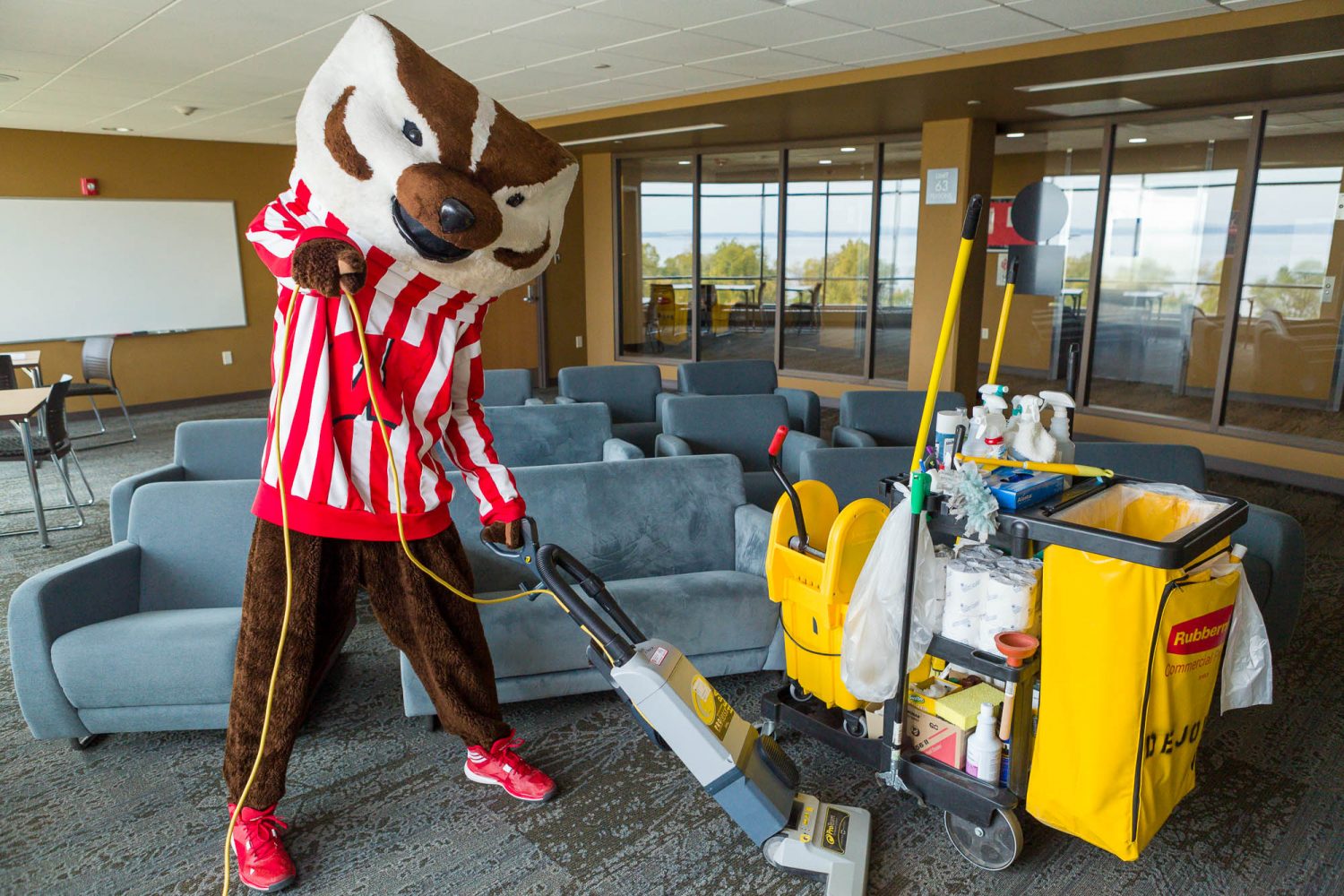 Maintenance & Cleaning
Our Facilities staff handle maintenance and repair requests quickly and efficiently. Plus, we diligently clean all common spaces including bathrooms, hallways, lounges, and more.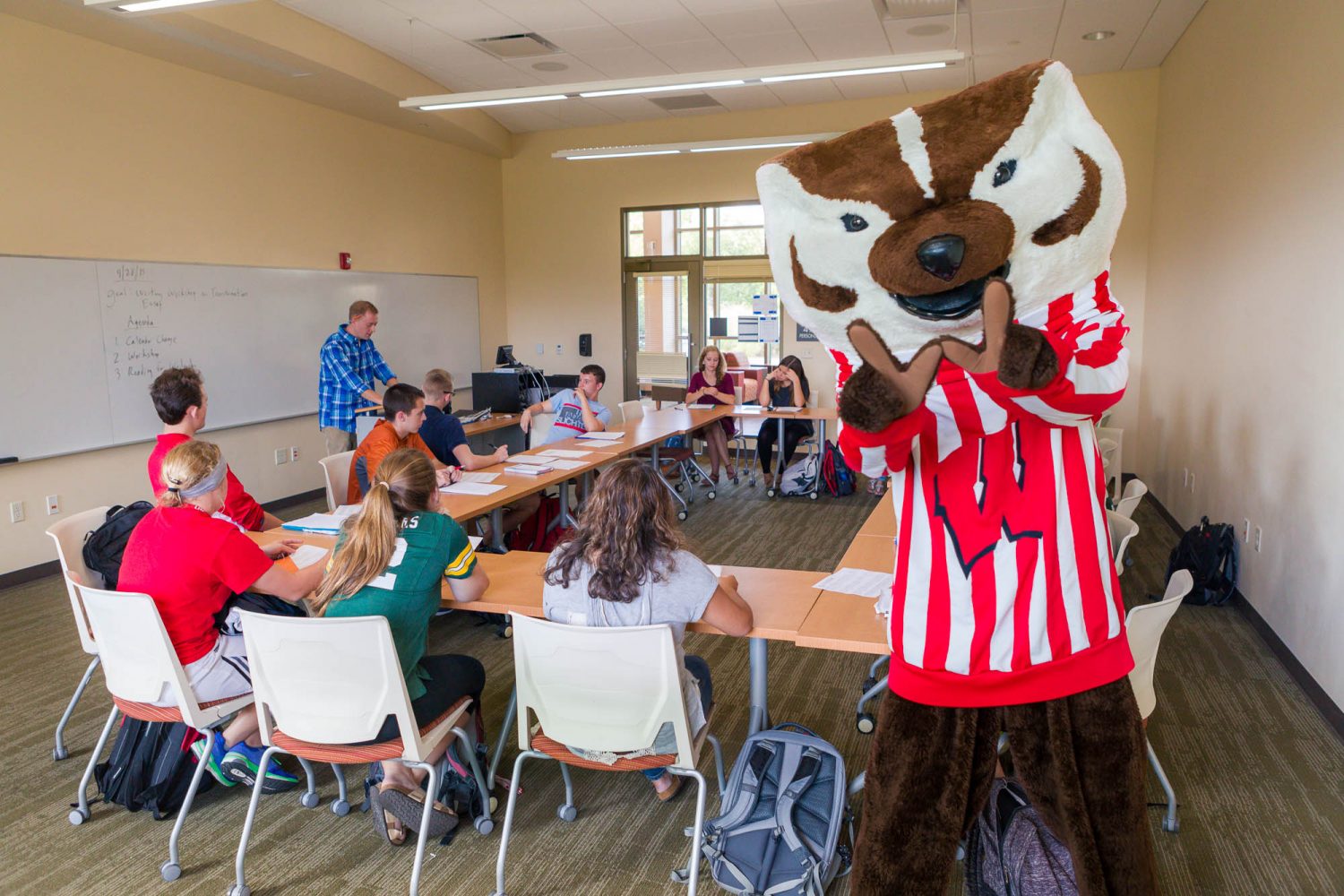 Better Grades & Faster Graduation
Statistics prove students who live on-campus earn better grades and graduate sooner than those who live off-campus. It's easy to see why: we offer advising, tutoring, classes, and quiet study spaces in residence halls.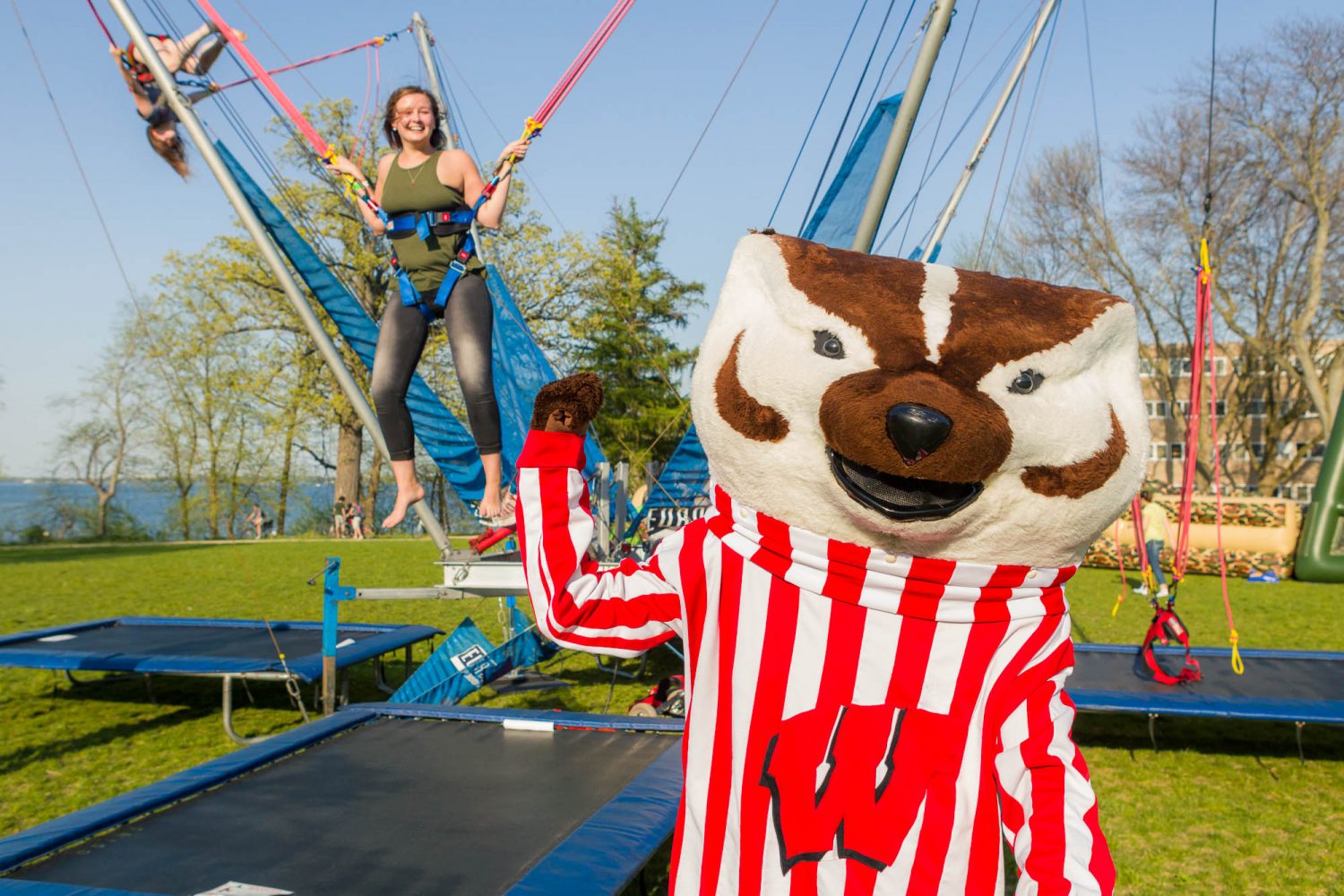 Location & Events
Live near classes, work, and dining with quick and easy access to workout facilities, health services,  libraries, and more. Plus, every year our staff plan events for students to relax, unwind, and meet new friends at.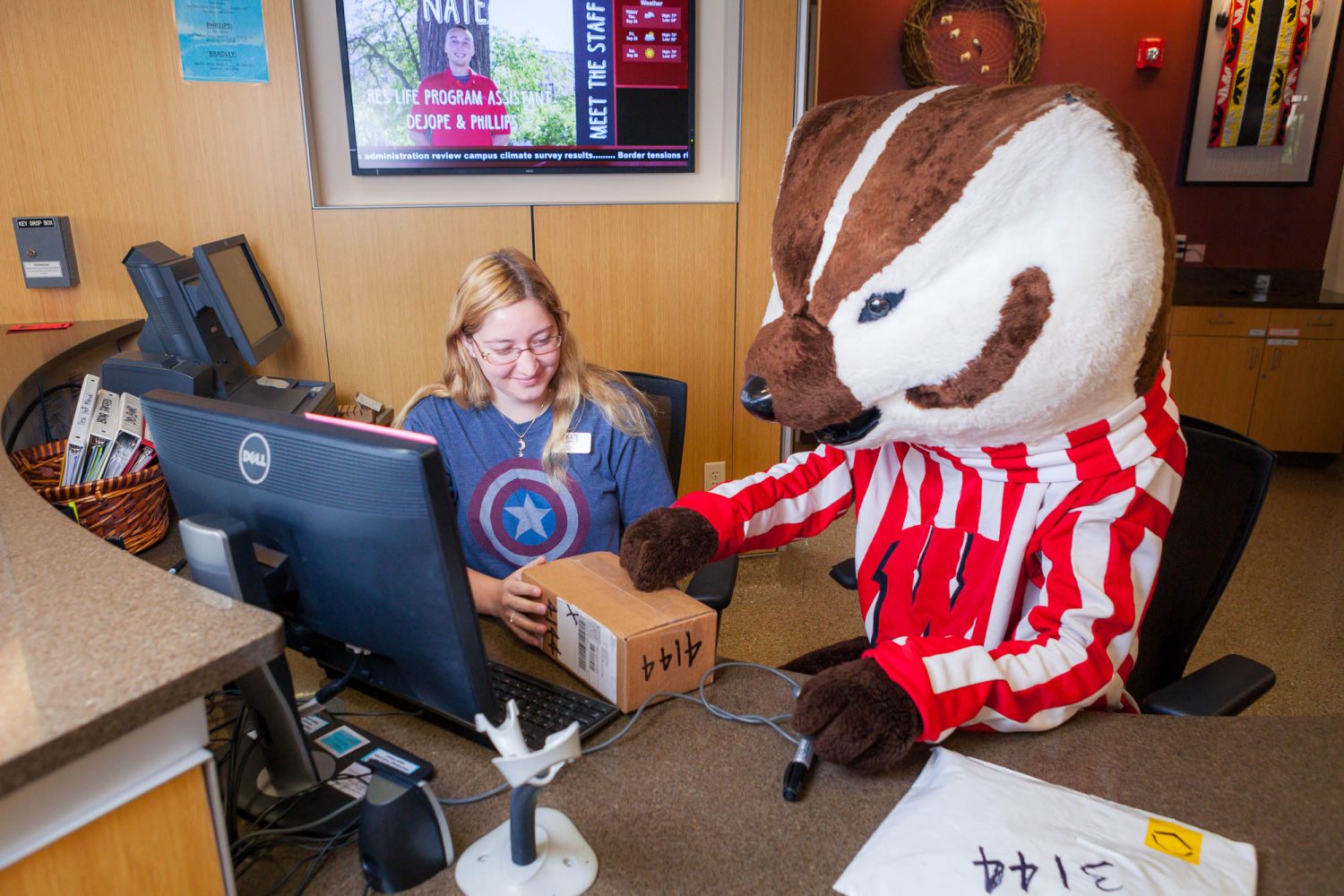 Services & Amenities
Laundry, 24/7 staff support, media centers, cable/streaming TV, Internet, furnishings, water, heat, and electricity are all included and available close to where you live.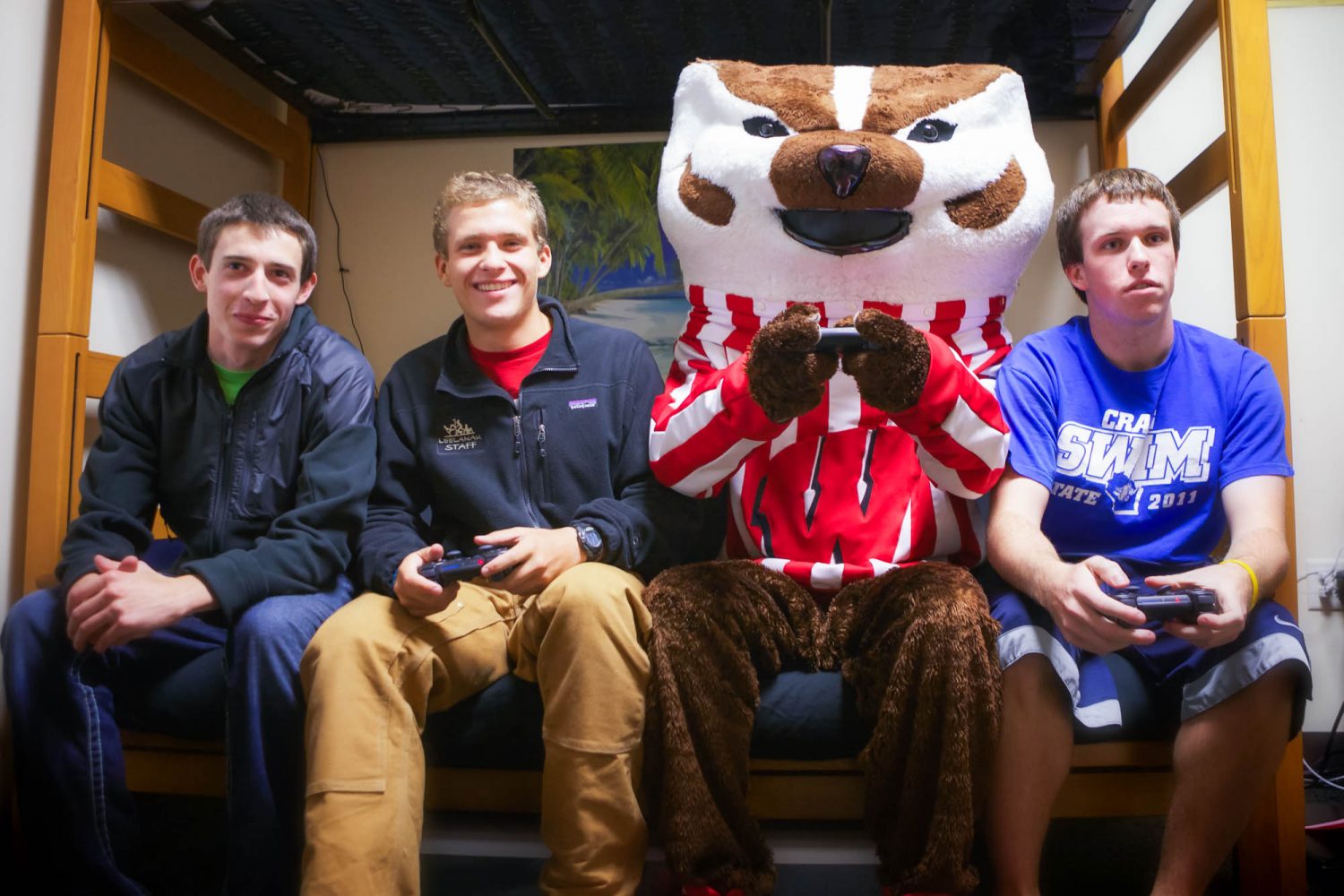 Live with Friends
Create your own fun and familiar Wisconsin Experience with a roommate group and live with up to two friends in a room.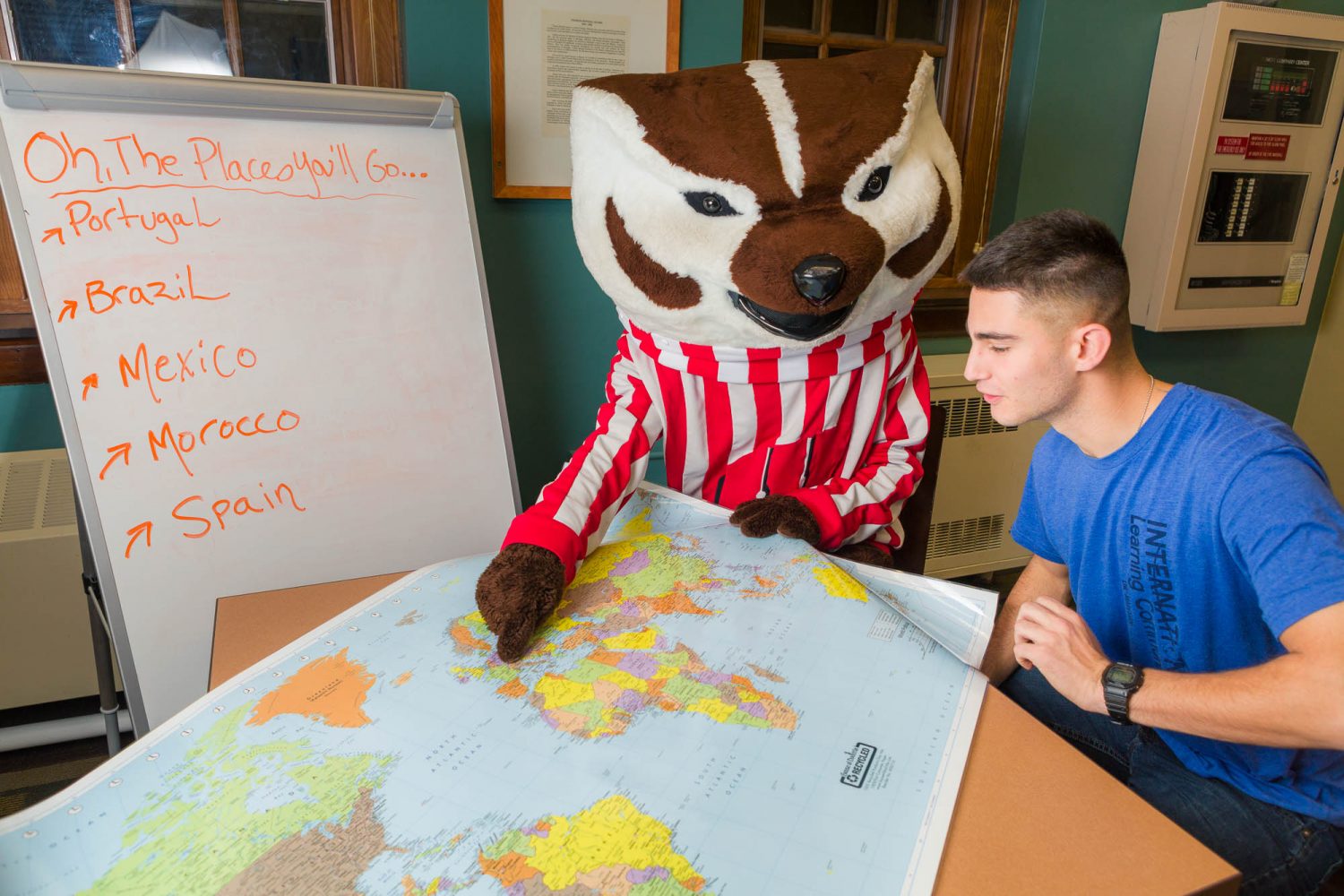 Flexibility
Friends change, especially during your first year, and your choice of roommate or room might change, too. Unlike an off-campus lease, we can help you switch if needed. Considering studying abroad? No need to find a subletter or try to get out of a lease. Students studying abroad can cancel the spring semester part of their contract so departure is simpler.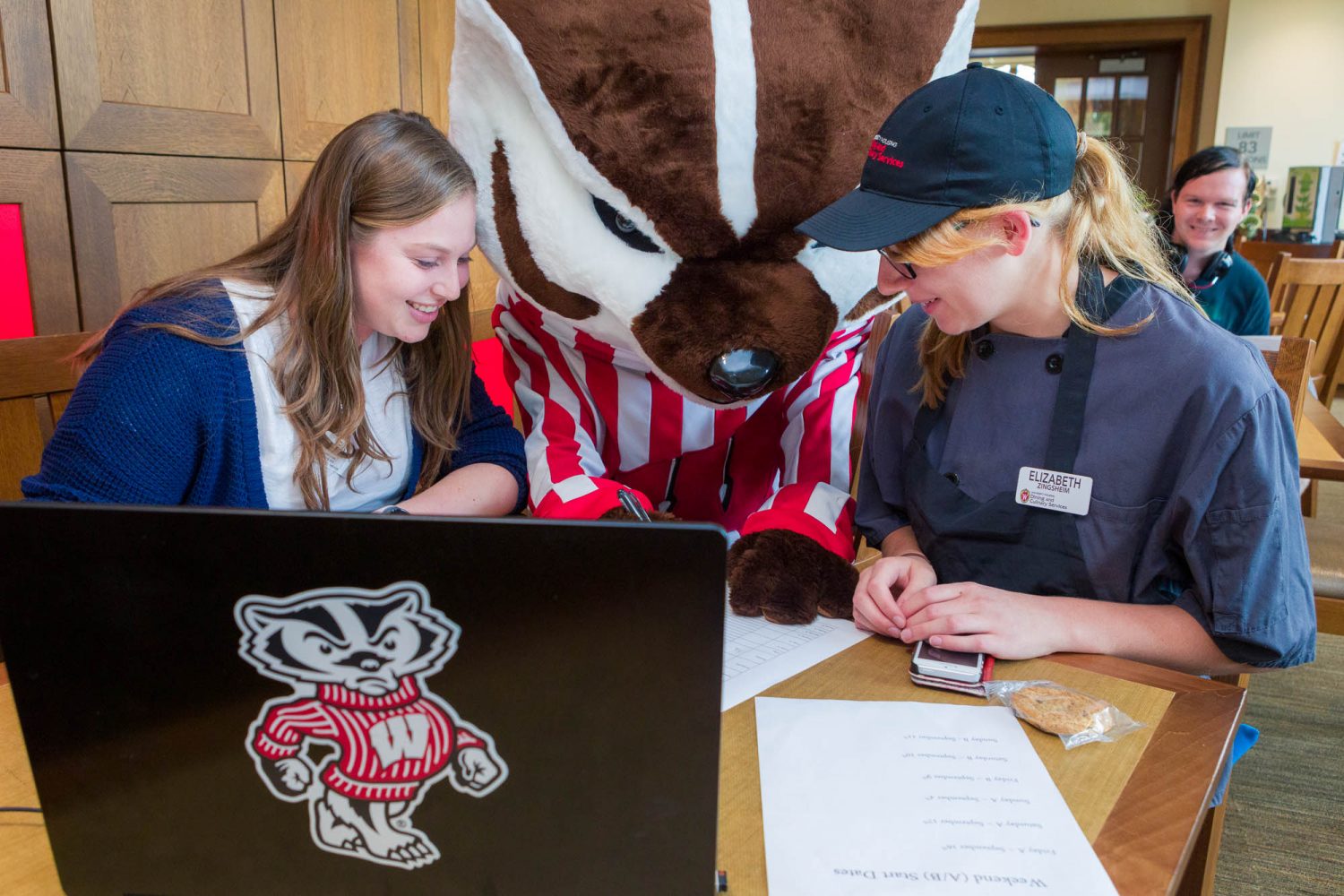 Build Your Résumé
Make a lasting impact on campus and jumpstart your future by taking advantage of leadership and job opportunities. Be a House Fellow, Badger Buddy, student supervisor, intern, or peer mentor and live where you work while improving your skills.
"I liked the resources that Housing provides, such as dining, facilities, and tutoring help. I think there's an advantage to another year in Housing because having a sense of security and most things figured out for you is beneficial."

Abby Z. • Dejope resident (second year) • Cole/BioHouse resident (first year)
Have Your Own Bathroom a Block from State Street in Lowell
Lowell Center is a fantastic option for returning residents and current UW students. Close to Memorial Union, Memorial Library, and State Street with beautiful views of Lake Mendota, Lowell offers on-site dining in Lowell Market and a mix of singles, doubles, and triples, each with a private bathroom.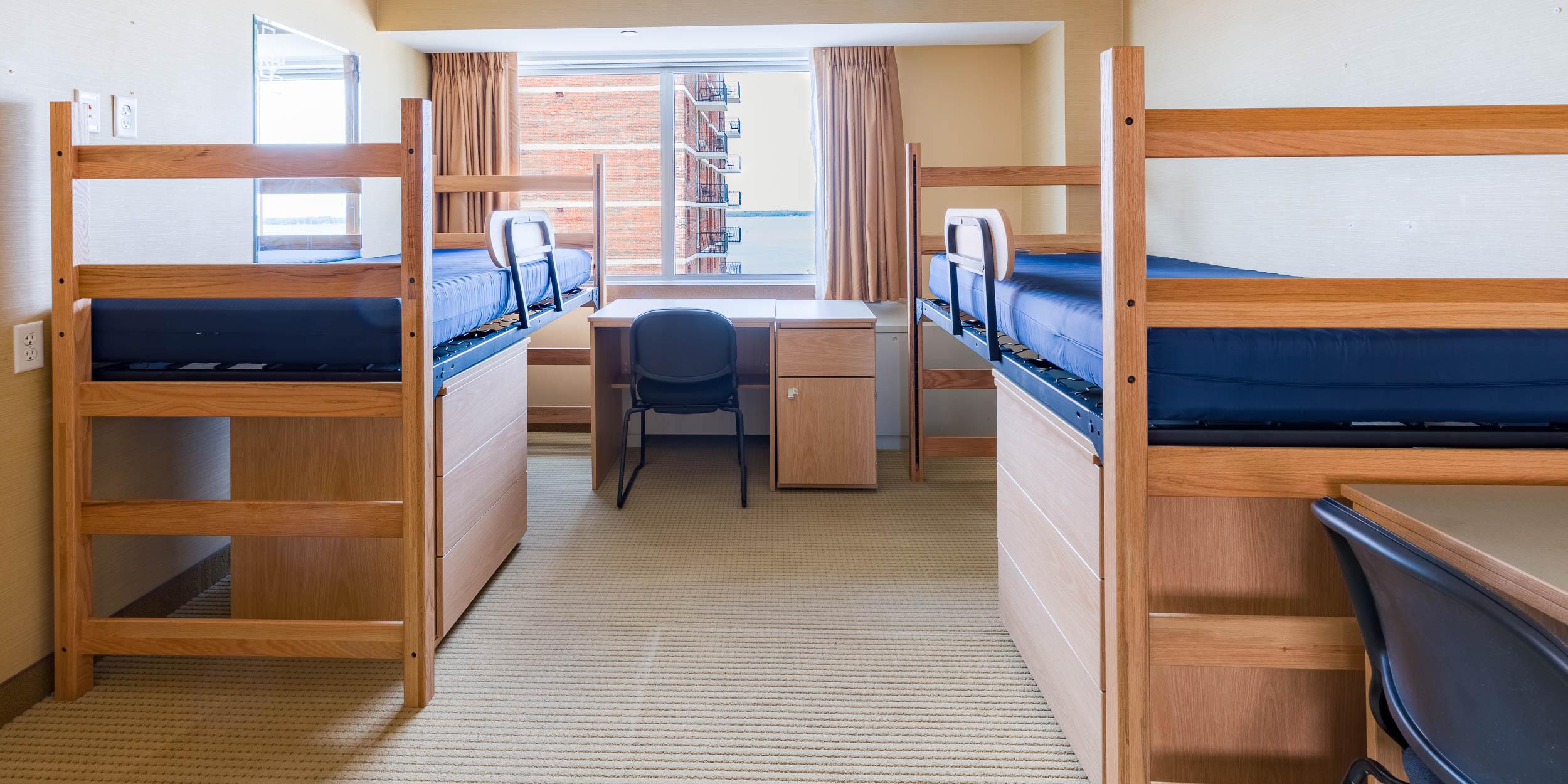 What'll It Cost?
Our room and dining plan rates are some of the lowest in the Big Ten. We take pride in minimizing our costs while providing an exceptional experience for all residents. The projected rates listed below are per resident, per academic year and include utilities (heating/cooling, electricity, and water), furnishings, Internet, digital or cable TV, maintenance/repairs, cleaning of bathrooms and common spaces, and 24/7 full-time staff support.
Residence Hall Room: $6,600 – $9,400 (rates vary, see full room room rates for details)
Dining Plan: $3,900 – $5,500 (required for all residents)

Students select from one of three dining plan options based on their eating habits and how much they plan to dine on campus. Meals and Dining Dollars are loaded onto their Wiscard for food purchases.
All Housing dining markets offer all-you-care-to-eat service.
Note: total costs of room and board can be calculated by:

What's New Next Year?
UW-Madison students currently living off-campus are not eligible to live in University Housing in 2023-24.
Roommate requests for returning residents to live with an incoming first-year student will not be available.
Double room options will be limited in Dejope, Leopold, Ogg, and Smith Residence Halls, and other building and room type options could also be limited due to changes to capacity, programs, or staff.
After students have selected a room and signed a contract, room change requests will not be available until the returning resident room selection process ends.
A designated period for students to return to their same room will not be available. Residents can still select their same room if it is available at the time of their room selection timeslot, however.
Sellery Residence Hall renovations will be fully complete, with new common spaces and amenities available on the first floor and lower level of the building.
Davis Residence Hall will not be available to residents in 2023-24 due to demolition to make room for Levy Hall as part of the UW-Madison campus master plan.
The first and second floors of Merit Residence Hall will be unavailable to returning residents due to the creation of a new Indigenous Affinity Community.
Gender Inclusive Housing spaces will be available throughout the University Residence Halls in a variety of room types. Students who choose this option will be able to select a room space in Gender Inclusive Housing, including single rooms with a shared All Gender bathroom, or double rooms with a bathroom, triples, etc.
Complete Your Notice of Intent
We need to know what your housing plans are for next year. It's easy and only takes a moment! Log in to My UW Housing to complete your 2023-24 Notice of Intent by November 6 at 11:55 p.m. and indicate:
Yes — I'm planning on returning to Housing next year, so keep me informed about the returning resident process/deadlines and assign me a random number to determine if and when I'll have access to select a room.
No — I'm not returning to University Housing next year, so don't send me communications about returning. I am not interested in being assigned a random number to determine if and when I'll have access to select a room.
If you change your mind later, you can update your choice.
Note: if you do not complete your Notice of Intent before November 6 at 11:55 p.m., you may not have another opportunity to participate in the returning resident room selection process. If you indicate "yes" on your Notice of Intent after November 6, it is possible you will be placed on a waiting list and another opportunity to select a space to live on-campus for the 2023-24 Academic Year is not guaranteed. Wait list status is not a guarantee of future on-campus housing. Completing the Notice of Intent does not oblige you to live in the University Residence Halls in 2023-24.
Steps & Dates

Step 1: Notice of Intent & Roommate Selection
Open October 27 at 10:00 a.m. – November 6 at 11:55 p.m.
All residents are required to log in to My UW Housing and complete their Notice of Intent to let us know their housing plans for next fall. Students who indicate "yes" on their Notice of Intent by November 6 at 11:55 p.m. will be assigned a random number to determine if and when they will have access to select a room.
During this time, students can also apply to learning and language communities, connect with other current housing residents to create roommate groups (1–3 roommates), or they can go it alone! Residents can then look for available spaces in My UW Housing that might be of interest to them.

Step 2: Email Confirmation
By November 10
Residents who indicate "yes" on their Notice of Intent by November 6 will receive an email to their @wisc.edu email address which will either have a date and time when they'll be able to select a room in My UW Housing, or a notification that based on their randomly assigned number, we were not able to reach them and they'll be placed on a waiting list.

Step 3: Room Selection
Starts November 15/16, 2022
Starting November 15/16, students will be allowed to select rooms starting at the time of their room selection time slot. If in a roommate group, the person with the earliest time can assign all members of their roommate group.
Step 4: Contract & Advance Payment
Once a resident has selected a room, they must sign their contract and pay an advance payment within 72 hours to secure their room. This step makes the contract a legally binding agreement where the resident is responsible for all housing charges for Academic Year 2023-24. University Housing does not allow students to cancel to live off campus.
Note: if a resident does not sign a contract and pay their advance payment within 72 hours of selecting a space, they may not have another opportunity to select a room. Not completing these steps within 72 hours will result in a resident being placed on the waiting list and another opportunity to select a space is not guaranteed. Wait list status is not a guarantee of future on-campus housing.