Adams Residence Hall | 173 residents (single and double rooms; coed mixed floor)
Sponsored by the International Division | $250 learning community fee (exception request form)
Our global focus makes the ILC stand apart! To be successful in today's world, cultural readiness is essential. We offer students a variety of opportunities aimed at developing students into global leaders.  Students have the opportunity to listen to guest lecturers who are working internationally and connecting one on one with faculty from various campus offices.  One of our Signature Programs gives students the opportunity to receive a $500 research award to work for an entire semester with these faculty.  Learning about other cultures certainly involves conversations with others over shared meals which is why our Roundtable Dinners are another popular Signature Program.
The ILC living experience is ideal for students studying foreign languages, interested in world affairs, visiting UW Madison via one of our exchange programs, members of the Wisconsin Scholars Program.  We have many students who choose to live with us who are planning to study abroad, returning from study abroad, or are wanting an international experience but unable to go abroad during their college careers.
Live in the ILC where you will enhance your cross-cultural understanding and your language proficiency by connecting with your neighbors. In addition to joining the general International Learning Community, students should also consider applying to live in one of the seven Language Immersion Houses within the ILC.
Program Goals:
Meet peers from all over the world
Build knowledge about other cultures
Seek out and explore cultural values of widely divergent belief systems
Develop the knowledge and skills needed to become a global citizen
What is awesome about living in the ILC is that I get to meet so many students interested in other languages and cultures. No matter what our differences are, I can always be certain that we can relate on that aspect.

Devin Johnson, ILC Resident
Seminar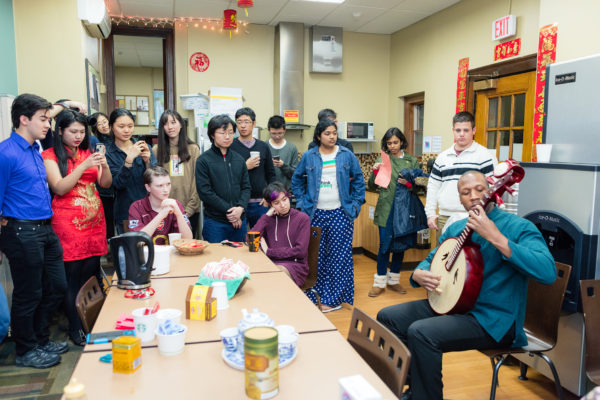 ILC Seminar Class | 1 Credit
ILC residents are able to take a one-credit, non-graded seminar that brings a faculty fellow and students together for one hour twice per month to explore and discuss a wide variety of international and cultural topics. These discussions take place in either the target language of their Language House (if they are a part of one) or in English. In many cases, faculty and students work together to plan discussions and activities for the roundtable course. Previous discussions have been centered on films, religion, current affairs, dialects, art, and contemporary issues.
Programs and Activities
One of the benefits of living in a Learning Community is the wide variety of activities offered for residents to participate in. Activities can include social events, networking lunches, seminars, field trips, and events within the greater Madison community. Learning communities often have signature events that are repeated year-to-year, but also include new activities based on resident's input and preferences.
Each year, the ILC offers events that allow residents to build relationships within their community, explore world cultures, study languages, connect with experts and scholars, travel outside of Madison, and have fun. Listed below are some of the ILC's signature events that are hosted yearly.
Some of the ILC's yearly signature events include:
Convocation
International Division events:  Study abroad, Intern Abroad information sessions
Community-wide celebrations of cultural events hosted by Language Floors
Roundtable Dinners (two times per month)
End of Semester and End of year community socials
Winter Shopping Trips