University Housing offers two distinct neighborhoods, with over 20 different residence halls varying in size, room types, and features. Our smallest residence hall is home to about 70 residents, while our largest is home to over 1,300 residents. Regardless of the size, your residence hall will consist of "houses." A "house" is simply a group of residents that live together, which could be a floor, wing, or entire building depending on the population. Your "house" also has a "house fellow," which is a live-in student staff member (similar to a resident advisor, or R.A.), there to plan fun events, offer advice, and help you throughout the year. Some residence halls include learning and affinity communities to enhance your Wisconsin experience.
No matter which building or neighborhood you live in, you'll find similar resources, services, resident events, and amenities, along with tons of new fellow Badgers. Most residents end up loving whatever hall they are assigned to, and it's about what you make of the experience..
Our Neighborhoods
Our residence halls are spread across two distinct neighborhoods on different corners of campus. The Lakeshore Neighborhood is nestled against the beautiful Lake Mendota, offering residents the most inexpensive lakefront property they will ever live on. The Southeast Neighborhood stands near the downtown area of campus, comprised of more high-rise buildings and less green space. Both neighborhoods are close to classes, major bus routes, libraries and many other campus resources. Regardless of where you live, you'll find the same Badger experience and plenty of options for your new on-campus home.
Lakeshore Neighborhood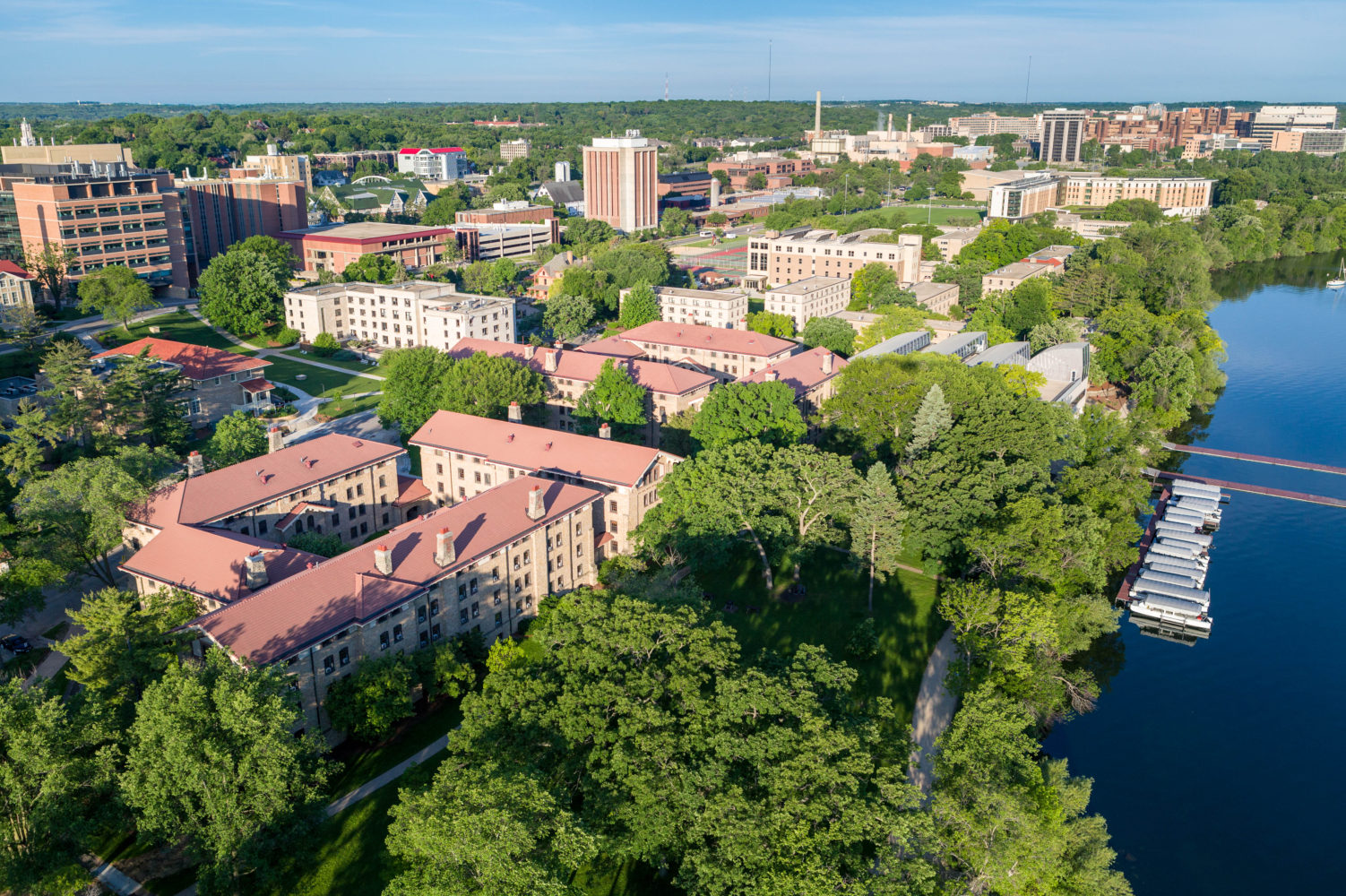 The beautiful Lakeshore neighborhood offers a ton of recreational opportunities and all the fun without the downtown noise. Its residence halls are a mix of modern designs and historic charm, with some of the most breathtaking lake views you've ever seen. Lakeshore is close to Ebling and Steenbock libraries and the Engineering campus, and is just a five-minute walk from "jumping around" at Camp Randall. Fitness-minded students can work out at the beautiful new Bakke Center and take advantage of tennis, basketball, volleyball and rec fields right outside their door. Lakeshore residents can even study outside in a hammock or snowshoe on frozen Lake Mendota. For easy access to shops and restaurants, Lakeshore is only a ten-minute bus ride from State Street and the Hilldale Shopping Center.
Residence Halls: Adams, Bradley, Cole, Dejope, Humphrey, Jorns, Kronshage, Leopold, Phillips, Slichter, Sullivan, Tripp, Waters
Dining Locations: Carson's, Four Lakes, Liz's
Recreational Space: Tennis courts, basketball courts, soccer fields, sand volleyball
Athletic Facility: Bakke Recreation Center
Union: Union South
Shopping: Hilldale Shopping Mall
Sports Venue: Camp Randall Stadium
Southeast Neighborhood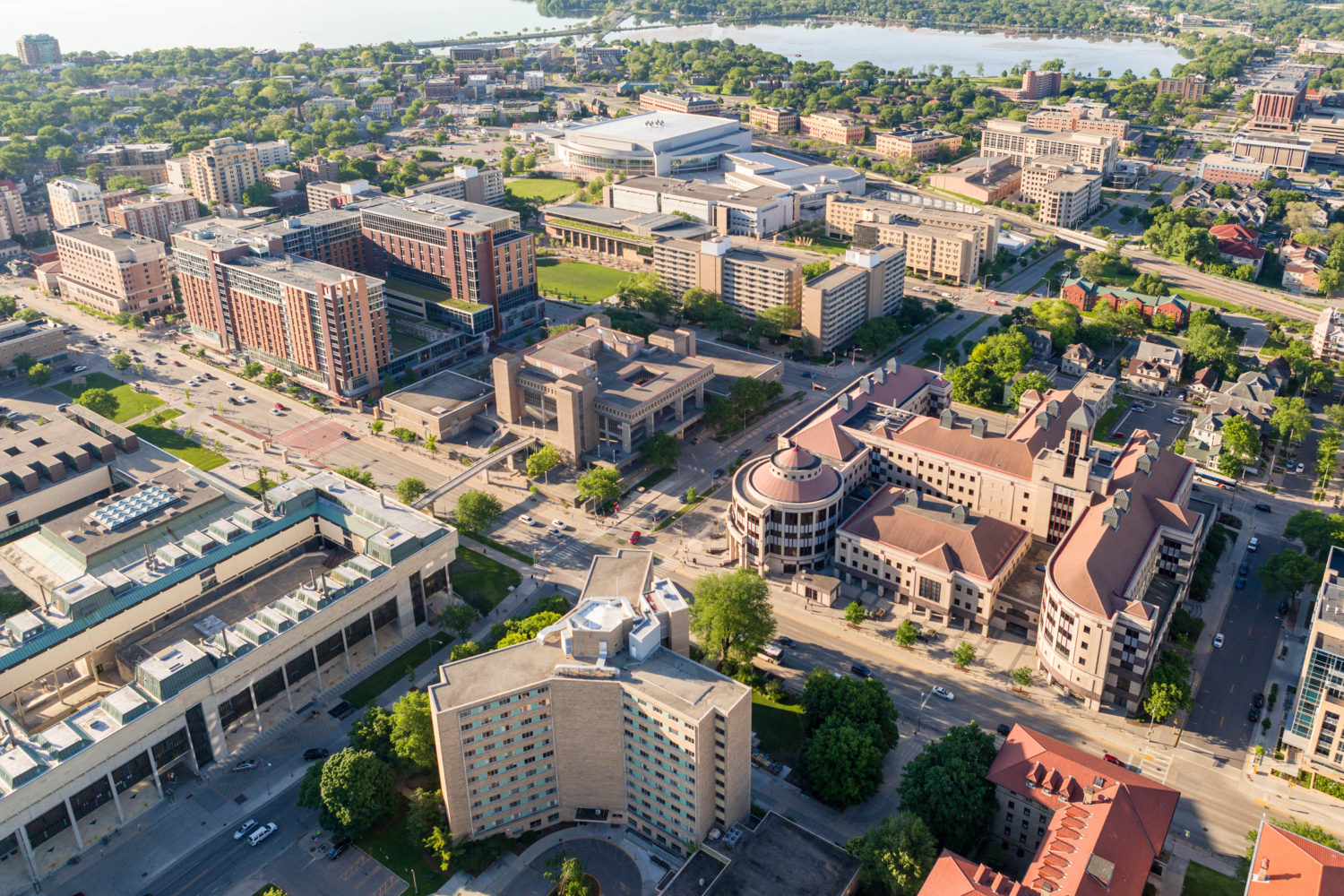 The Southeast neighborhood is located near the downtown Madison area, surrounded by busy streets and high-rise apartments. Its residence halls are mostly larger, denser buildings in a variety of layouts. The Southeast neighborhood is equidistant to both student unions and near College and Memorial libraries, which offer quiet places to study. Want to be a member of the "Grateful Red" or the "Crease Creatures?" Witte Hall is located across the street from the Kohl Center, so you'll only be a short walk away from Badgers basketball and hockey games. The area also offers volleyball courts, basketball courts, and the Nicholas Recreation Center ("The Nick") for exercise, plus a Starbucks in Smith Hall and nearby access to State Street for shops and restaurants.
Residence Halls: Barnard, Chadbourne, Lowell, Merit, Ogg, Sellery, Smith, Witte
Dining Locations: Gordon Avenue, Lowell, Rheta's
Recreational Space: Basketball courts, sand volleyball
Athletic Facility: Nicholas Recreation Center (The Nick)
Union: Memorial Union
Shopping: State Street
Sports Venue: Kohl Center
Compare Buildings
Residence Hall
Communities
# of Residents
Assignment Pattern
Bathrooms Shared By
Room Types
Gender Inclusive Options Available
Carpet in Resident Rooms
A/C
Price Range
wdt_ID
Residence Hall
Communities
# of Residents
Assignment Pattern
Bathrooms Shared By
Room Types
Gender Inclusive Options Available
Carpet in Resident Rooms
A/C
Price Range
1
Adams
International Learning Community (part of)
247
Mixed coed floors
Floor
Singles
Doubles
Triples
No
No
Hallways/common areas
Mid
2
Barnard
--
139
Mixed coed floors
Floor wing
Singles
Doubles
Triples
No
No
Hallways/common areas
Mid
3
Bradley
Bradley Learning Community (entire hall)
246
Mixed coed floors
Floor wing
Doubles
Quads
No
Yes
Hallways/common areas
Low
4
Cole
BioHouse Learning Community (part of)
237
Mixed coed floors
Floor
Doubles
Triples
Quads
No
Yes
Hallways/common areas
Low
5
Chadbourne
Chadbourne Residential College (entire hall)
Pathway Affinity Community (part of)
580
Mixed coed floors
Floor wing
Doubles
Quads
No
Yes
Entire building
Mid
8
Dejope
589
Mixed coed floors
Cluster of 5-6 rooms
Doubles
Triples
Quads
Yes
Yes
Entire building
High
9
Humphrey
76
Single sex floors
Floor
Doubles
No
Yes
Hallways/common areas
Low
10
Jorns
76
Single sex floors
Floor
Doubles
Quads
No
Yes
Hallways/common areas
Low
11
Kronshage
608
Single sex floors
Floor
Doubles
Quads
No
Yes
Hallways/common areas
Low
12
Leopold
GreenHouse Learning Community (part of)
213
Mixed coed floors
Cluster of 4-5 rooms
Doubles
Triples
Quads
No
Yes
Entire building
High
13
Lowell
Gender Inclusive Affinity Community (part of)
321
Mixed coed floors
Room
Singles
Doubles
Triples
Yes
Yes
Entire building
High
14
Merit
Indigenous (NDGNS) Affinity Community (part of)
68
Mixed coed floors
Room or cluster of six rooms
Singles
Doubles
Triples
No
Yes
Entire building
High
15
Ogg
Business Connect (part of)
The Studio (part of)
863
Coed clusters
Clusters of 4 rooms
Doubles
Triples
Quads
No
Yes
Entire building
High
16
Phillips
Open House Learning Community (part of)
141
Mixed coed floors
Room
Doubles
Yes
Yes
Entire building
High
17
Sellery
StartUp Learning Community (part of)
1,329
Mixed coed floors
Floor wing
Singles
Doubles
Triples
Quads
Yes
Yes
Entire building
Mid
18
Slichter
200
Coed by wing
Floor wing
Doubles
No
Yes
Hallways/common areas
Low
19
Smith
576
Coed by cluster
Cluster of 3-4 rooms
Singles
Doubles
Triples
Yes
Yes
Entire building
High
20
Sullivan
252
Mixed coed floors
Floor wing
Doubles
Quads
No
Yes
Hallways/common areas
Low
21
Tripp
Transfer House Affinity Community (part of)
258
Mixed coed floors
Floor
Singles
Doubles
Triples
No
No
Hallways/common areas
Mid
22
Waters
Women in Science & Engineering Learning Community (part of)
498
Coed by wing
Floor wing
Singles
Doubles
Yes
Yes
Hallways/common areas
Mid
23
Witte
Essence Affinity Community (part of one floor)
Multicultural Learning Community (one floor)
1,326
Mixed coed floors
Floor wing
Doubles
Quads
Yes
Yes
Entire building
Mid