Student Orientation, Advising, and Registration
SOAR is your orientation to UW-Madison and where you enroll for your first semester of classes. It introduces you to our campus and the many great resources available to you.
While you're here, you and your parents/guests are welcome to stay in our residence halls and experience living on campus.
For information about SOAR Housing for Summer 2023, click "Reserve Overnight SOAR Housing"
Student Orientation, Advising, and Registration
SOAR is your orientation to UW-Madison and where you enroll for your first semester of classes. It introduces you to our campus and the many great resources available to you.
While you're here, you and your parents/guests are welcome to stay in our residence halls and experience living on campus.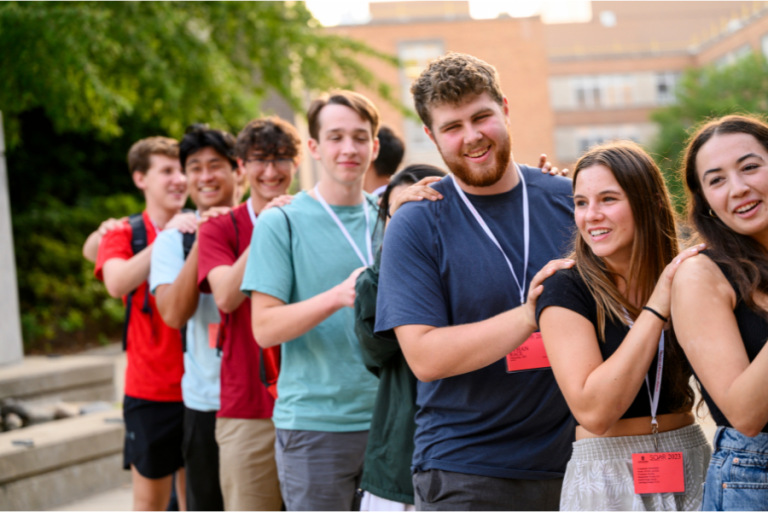 Experience our Residence Halls
Our residence halls are unique communities full of resources, support, convenient services, events, and thousands of fellow Badgers. They're an environment built for your success.
Your SOAR Housing experience introduces you and your parents/guests to our dining halls, rec facilities, amenities, and assets like Desk Services and our House Fellows – excellent resources throughout the year. Meet fellow new Badgers by staying with other students and their families to connect and learn together.
There's a lot more to college life than sleeping and studying, and University Housing helps you make the most of it!
SOAR Housing Tours
SOAR – Day Two: Tour the University Residence Halls!
1:30 p.m. – 3 p.m. Drop-in, guided tours of residence hall rooms and a resource table
Building 
Room Type
Similar To
Address
Kronshage – Showerman
(Lakeshore)
Double
Slichter, Waters
1650 Kronshage Dr.
Leopold
(Lakeshore)
Triple
Dejope, Ogg, Smith
1635 Kronshage Dr.
Smith
(Southeast)
Triple
Dejope, Leopold, Ogg
35 N. Park St.
Witte
(Southeast)
Double
Chadbourne, Sellery
(post-renovation)
615 W. Johnson St.
Please note: We are not able to offer SOAR tours of other buildings or rooms, due to summer conference participants staying in most of our residence halls and renovation projects. The tour rooms offered represent many of our most common room types and building styles, to give a sense of what students can expect for their living space.
Housing Highlights and Hall Tours
A highlights version of the SOAR schedule is also available online at go.wisc.edu/soar-schedule.
Day One
SOAR begins with a Formal Welcome
1 p.m. Union South
Family & Guest Session: Housing Breakout Living on and (off) Campus
2:45 – 3:30 p.m. Varsity Hall & 5th Qtr. Studio
Campus Resource Fair
Stop by the University Housing table to ask questions or to get information on student employment in Housing, dining, dining plans, and student engagement opportunities.
4:30 – 5:45 p.m. Union South Outdoor Plaza
Wisconsin Late night
Come join us for some late-night fun at the Nick!
8:30 p.m. Nicholas Recreation Center
797 W Dayton St., Madison WI 53706
Your SOAR Stay
Accommodations
SOAR 2022 accommodations are arranged in our undergraduate housing space in the Lowell Center, which offers a great location near Memorial Union, Memorial Library, and State Street with beautiful views of Lake Mendota.
Undergraduate resident rooms at the Lowell Center are a mix of singles, doubles, and triples, each with a private, in-room bathroom.
Rates
SOAR single room  $76.50/night/person
SOAR double and triple rooms $51.50/night/person
Room rates includes breakfast. Students may opt for the double occupancy rate and may be paired with another student. 
Breakfast
Breakfast is provided and conveniently located in Lowell Market dining room. A hot, fresh breakfast buffet is served during the week and continental breakfast options are available on the weekend. Both include vegetarian and healthy choices.
Amenities
Toiletries per person include two bath towels, one hand towel, one washcloth, soap (1.50oz), one lotion & one shampoo. Facial tissues for the room.
Each bed is premade with mattress pad, sheets, blanket, bedspread, and pillow with protector and case.
One extra blanket and one extra pillow per occupant are located in the closet with hangers.
Small refrigerator in each room.
Room Service – Guests can use the QR code in the Guest Services In-Room Guide to submit a work order to replenish supplies.
Residence Hall Guest Services In-Room Guide.
All rooms have free high-speed wireless guest Internet access. For connection instructions, contact the hall desk or review the in-room guide. Visit the University Housing Internet guide for wireless internet service in the residence halls and reasonable use policy.
Check-In
You can check in to your room and your SOAR session in the lobby of Lowell Center from 10 a.m. – 12 p.m. You'll receive your room key and additional housing information as well as SOAR materials before heading to your first session.
If you arrive after 12:15 p.m., you'll need to check in for your CFYE SOAR program separately, at Union South. The hall desk is open until 10:30 p.m. to accommodate any late arrivals. If you will be arriving after 10:30 p.m., please contact the residence hall desk at 608-256-2621 before 10 p.m. to make special arrangements.
Parking
Long-term parking is not available at Lowell Center located at 610 Langdon Street. Limited curbside drop-off parking is provided on 610 North Frances during a quick luggage drop and check-in service before you move your vehicle to Lot 17 for the remainder of orientation. SOAR parking permits are available through the Center for First Year Experience when you register for your SOAR session. Lot 17 is located north of Camp Randall on campus.
Check-Out
Please check out and return your room key to the Hall Desk no later than 8 a.m. Your luggage may be stored at the hall desk while you attend the remainder of your SOAR sessions.
Luggage Checks
We offer complementary, secure luggage checks while you wait for your room to be ready or after check-out. You can claim your bags from the Lowell Center desk after the last day's sessions when you are ready to depart.
A Welcome from Jeff and Bucky
We are excited to have you staying with us during your SOAR experience. Throughout your stay, take advantage of all that we have to offer. Our dedicated staff aim to provide you with outstanding facilities and food. In your short stay with us, you'll get a brief preview of the many resources and opportunities available to you when you return to live with us in the fall. Over the next two days, connect with others, ask many questions, and most importantly have fun.
Welcome to the Badger Family!
Jeff Novak, Director of University Housing
#LIVEWITHBUCKY!
Additional Housing Experiences
Dining
While at SOAR, we encourage you to check out several other popular Housing dining options across campus. We offer six convenient marketplace-style dining locations, including Gordon Avenue Market and Four Lakes Market. We also offer additional dining options like Flamingo Run convenience stores, Starbucks, and The Bean & Creamery coffee and ice cream shops to serve your tastes across campus.
If you have dietary concerns, or if you're wondering about the options you'll have on campus, visit our Nutrition and Allergens page for our services and resources.
Late Night Programming
Text
Hall Social Event
Have questions? We have Answers. Join a House Fellow, your future peers, and your parents or guests in the first floor lobby of Lowell Center from 9:00 – 11:00 p.m. to get your questions answered by experienced undergraduate student leaders and to enjoy free snacks.