University Housing prioritizes keeping items out of the landfill through a variety of recycling, compost, reuse and donation initiatives. Learn more about what you can do and what we do to live sustainably!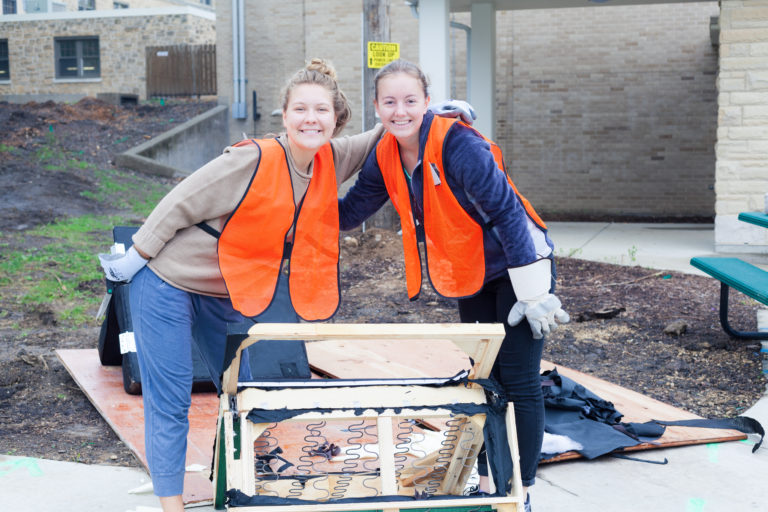 Recycling Guidelines
University Housing has a single-stream recycling system, meaning all recyclable materials can be placed together in the blue collection bins. These items include:
Plastic bottles and containers marked 1-7
Aluminum and steel cans
Cardboard boxes
Envelopes
Glass bottles and jars
Magazines
Office paper and notebooks
Paper cups and cartons
All recyclables should be free of liquid and food residue. Take this 10-minute training course to become a campus recycling expert!
Reminders for Residents
You play an important role in campus waste diversion efforts. Prevent contamination by properly sorting recyclable items from trash and avoiding "wishcycling." Make sure recyclables are free from residue, dry, and appropriately sorted.
Take all trash and recycling to the designated outdoor recycling areas. If you have a question about the location nearest you, check with your House Fellow.
Please tie all trash bags and prevent overfilling bags. The trash bags available for free to residents are made from recycled materials and can only handle so much material. Loose trash is easily picked up by wind and can be harmful to wildlife and the surrounding waterways.
Break down all cardboard to conserve room in the recycling dumpster and better prepare the material for recycling.
University Housing is proud of our composting efforts over the years. Due to unforeseen circumstances, the campus-wide food waste collection program has been suspended until further notice. To find out more, please visit The Office of Sustainability Compost website.
Food waste composting is still practiced at Gordon Dining & Event Center and Four Lakes Market through a partnership with the West Madison Agricultural Research Station and Waste & Recycling. We hope to expand capacity to other units in the near future.
UW–Madison operates a specialty item recycling program to provide students, faculty, and staff recycling locations to dispose of their waste responsibly. Items for recycling include batteries, mixed media, ink cartridges, eyeglasses and small electronics. Recycling locations are available across campus and Housing residents may visit Sellery and Holt to recycle e-waste items in Housing. Plastic bag recycling is available at every hall desk.
When completing renovations, Housing strives to minimize the amount of material sent to the landfill. Housing partners with UW SWAP to repurpose items by sending them to other campus departments, non-profits, and the community. This program keeps over 250,000 pounds of material out of the landfill each year while supporting the missions of Housing's community partners. If your organization is interested in partnering, please contact sustainability@housing.wisc.edu.
Waste and Recycling FAQs
This is an accordion element with a series of buttons that open and close related content panels.
Should you crush your recycling to make more space?
No! Place your recycling in the recycling bin the same way you bought it. Crushed cans and boxes are less likely to be recycled because they are harder for staff to pick them out of the line and/or they slip through cracks and crevices during the process.
Do I need to remove labels around aluminum cans?
No, labels typically fall off during the recycling process. No need to remove labels from cans, jars, or bottles.
Can I recycle my plastic bags?
Yes, plastic bags can be recycled at any University Housing hall desk OR at participating store drop off locations! Plastic bags and film cannot be recycled in your regular recycling bin because they get caught in the machines at the recycling center. Please make sure your bags are clean, dry, and empty before dropping off in one of the recycling stations.
How should I dispose of old medicine?
Can you recycle toothpaste, toothbrushes, mouthwash, and floss?
Off-campus recycling options exist for toothbrushes, toothpaste tubes, and dental floss and mouthwash containers at Artisan Dental: 10 N Livingston St. Suite 301.
Where do I recycle my batteries or e-waste?
All batteries and small e-waste can be brought to the mixed media recycling stations in Sellery or Holt. If it's a larger item, check the map here for other recycling locations across campus.
What do I do with my old t­-shirts or other linens?
If they are in good condition, donate them to Ogg or Dejope collection stations or to a local thrift store. If items are heavily worn, use them as rags or bring them to Goodwill or St. Vincent de Paul for textile recycling.
Make an Impact
Curb contamination! Pay close attention to recycling guides to know what bin items belong in.

NO plastics in the compost!
Open and check your containers before recycling or composting them to remove silverware and other items that cannot be recycled or composted.

Donate clothing at Goodwill drop-offs at Dejope, Ogg, or Helen C. White Library lobbies. Check out off-campus donation sites at Vincent de Paul, Goodwill, or Salvation Army.
The University operates a Solid Waste Alternatives Project (SWAP), a surplus property operation that serves the campus and local community. SWAP posts items for auction and donation – including bikes, laptops, furniture, and more.

For students and staff: shop SWAP before purchasing new items.
For UW staff: use the SWAP Surplus Request Form to repurpose items and keep them out of the landfill.

When possible, buy secondhand instead of new.
Use reusable bags while shopping. If you need to use plastic, recycle bags at any residence hall desk drop-off or in town at one of these locations.
Rip pizza boxes in half to recycle the clean non-greasy top and to trash the greasy cardboard bottom.
These guidelines are specific to University Housing at UW–Madison. For more information on recycling in the City of Madison, check out this website.
Sustainability Move-Out
Uplifting Housing's core value of stewardship, Housing helps students say goodbye sustainably by collaborating with students, staff, and campus and community organizations to donate or recycle items they no longer need. Recycling and donation locations are set up near residence halls to allow residents and their families convenient access to donation and recycling opportunities during move out. The event is volunteer run and relies on the hard work of campus volunteers to divert as much waste as possible, over 100,000 pounds of material annually. Click here to learn more about Sustainability Move Out.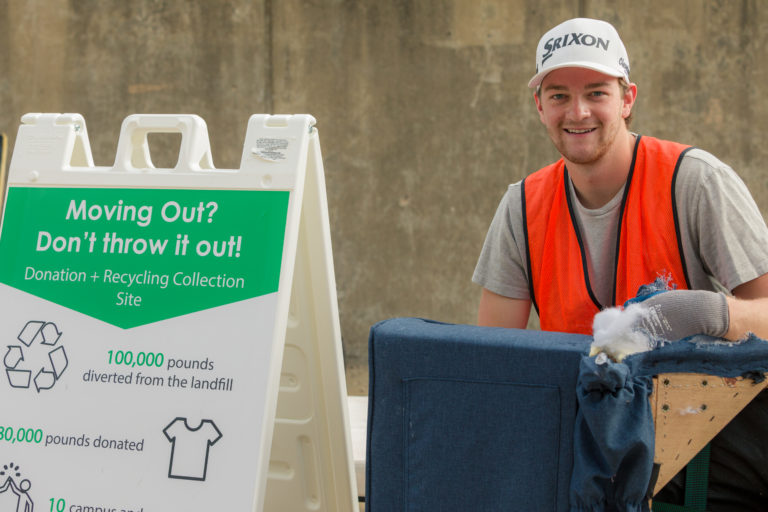 What Else Does University Housing Do to Reduce Waste?
The Housing Upholstery Shop repairs furniture to repurpose items rather than landfilling them.
For items that cannot be repurposed or repaired, Housing properly recycles all materials. This includes broken equipment, furniture, metal, batteries, lightbulbs, chemicals, paint, etc. This accounts for over 40,000 pounds of material annually.
Similar to our Move-out efforts, Sustainable Move-in diverts over 50,000 pounds of new resident waste from landfill annually through cardboard, Styrofoam, and plastic bag recycling.
39 water bottle filling stations are available on the main floor of each residence hall. On average, each station saves waste from 27,000 plastic water bottles a year.
All indoor trash & recycling multi-unit containers are made from recycled plastic bottles.
All waterhog matting in entryways are made from recycled tires.