Ruth Hine
Credentials: 1923-2010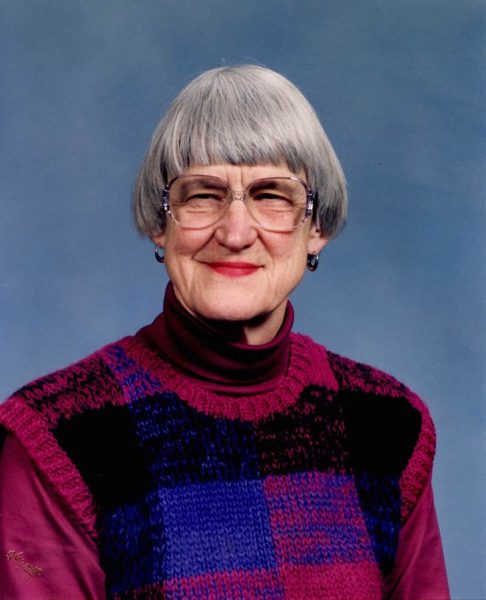 Ruth Hine (1923-2010) was a pioneer, conservationist, writer and editor. She paved the way for women in conservation as the first woman to obtain a PhD in zoology from UW. She held develop programs for endangered species, paving the way for others to study the disappearance and sightings of critical species and to keep records of their observations. She chaired the committee that created Wisconsin's first endangered species list. An avid conservationist throughout her life, Hine remained active in the field even after her retirement from the academic world, helping to establish Bethel Horizons Retreat Center and its Nature Program in Dodgeville, WI.
She was born in Columbus, Ohio on August 19, 1923 but moved to Orlando, Florida shortly thereafter. Her family returned to Ohio before settling in Springfield, Massachusetts, where she graduated from high school in 1940. Hine graduated Phi Beta Kappa with a degree in zoology in 1944 from Connecticut College. After a brief stint at Wesleyan University in cell research, she was attracted to Madison in 1947 by Aldo Leopold's reputation. She became a teaching assistant in general zoology and invertebrate zoology at the University of Wisconsin and after earning her master's in 1946, became the first women to earn a doctorate in zoology from the University in 1949. Dr. Hine then embarked on a 35-year career with the State of Wisconsin's Conservation Bureau, later renamed the Department of Natural Resources. While working with the Conservation Bureau in 1952, she completed her thesis work on small animal communities. Hine made another breakthrough for women in 1953, when she became the first female biologist in the state. She was known for being an expert Technical Bulletin editor and adhering to strict standards while keeping egos intact; many of her technical bulletins earned her national awards and garnered praise from scientists, researchers, policymakers, and others interested in conservation and the environment. In May 1966, the Wisconsin State Journal described some of these honors, noting, "It is not without significance that all of Wisconsin's blue-ribbon monographs have been edited by the incomparable Ruth Hine, who has the unique ability to combine a PhD in zoology with a felicity of expression."
Hine said three of her most memorable accomplishments were: "Finding students with deep interests in certain species and working with them; pushing for leopard frog attention; and organizing that field inventory as well as getting information at the outset on various species from wildlife managers, fish managers, conservation wardens, and others so we would have a place to start." She was inducted posthumously to the Wisconsin Conservation Hall of Fame on April 24, 2010.