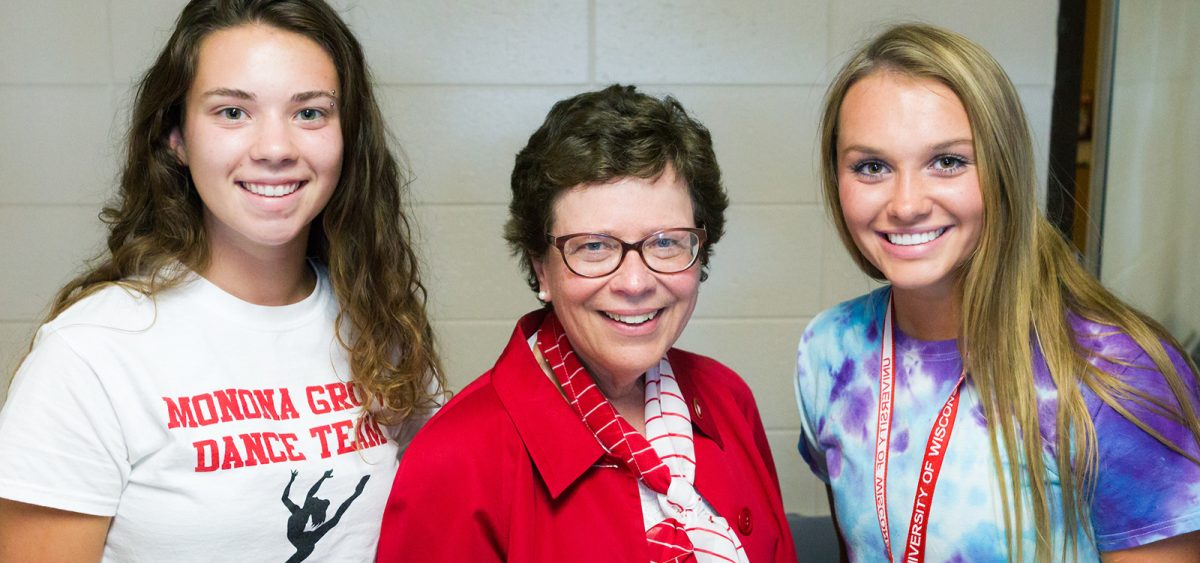 With heavy hearts, our University Housing family mourns the passing of Chancellor Emerita Rebecca Blank. Her brilliant and steady leadership guided us through many challenges and her vision and boundless energy had an enormous impact on our residents and staff. For University Housing, she was a strong advocate of the residential experience and a beloved presence at Fall move-in. There are so many things that reflect the genuinely kind person that Chancellor Emerita Blank was and how she so loved UW-Madison, but two instantly come to mind.
First, the year following the major hit of the pandemic, I was taking Chancellor Blank around for her annual visit to welcome new freshmen into the residence halls, and I asked her what she missed most during the last year. Of all the things to answer, she said she missed hanging out with Bucky and seeing the joy he brought to students.
Second, as she had officially ended her time at UW and was just a few days away from leaving town, she reached out to see if she could spend some time thanking our bakery staff for making the German Chocolate Cakes she so enjoyed through the years. It was such a kind gesture, and her visit made a huge impact on our staff, and of course that was her.
Our hearts are with Hanns, Emily, and her family and friends at this difficult time. As our campus remembers Chancellor Blank through the stories, photos, and tributes from those who knew her, we share our gratitude for the unwavering support she provided.  She was one of a kind, and we will miss her greatly.
Jeff Novak
Director, University Housing
University of Wisconsin-Madison