Work with Us!
Interested in joining the Residence Life team at UW-Madison? Check out more information about our department, our staff, and more.
Residence Life is part of the Division of University Housing at the University of Wisconsin–Madison. As a student service, our University Residence Halls provide quality living and learning environments and programs to over 8,500 undergraduate student residents in 21 Residence Halls.  Residence Life is responsible for the student, staff, and programs that create intentional inclusive living and learning environments.
Why Work with Us:
Our mission is to provide a safe and inclusive environment that supports personal development, community engagement, and academic achievement.
A few of our highlights to make this happen are:
Diversity in Supervision of Student Staff Positions: positions encourage leadership, excellence, compassion, and creativity. Some student positions that could be supervised are:

House Fellows (i.e. Resident Assistants)
Residence Life Team Assistants
Learning Community Program Assistants
Lead Peer Mentors
Peer Mentors
Center for Culture Enrichment Program Assistants
Late Night Coordinators

A student population focused on high achievement and shared governance:

student staff members look to excel in all aspects of their college experience.

They advocate for each other to ensure a positive experience for everyone living in the Residence Halls.
Department organization focused on specialized areas: Residence Life creates, evaluates, and updates our policies and procedures to ensure staff at all levels feel supported. Specialized areas include:

Residential Education – Academics, Learning Communities
Diversity & Inclusion
Student Assistance and Behavior
Student Engagement & Advocacy
Student Staff Selection, Training, Development
Professional Staff Recruitment
Professional Staff Training & Development
Assessment

Divisional collaboration:

as part of a larger Housing division, our staff get to interact with our many different department partners in a variety of ways.

This can range from collaborating with Dining & Culinary Services for events, our Facilities team to work on sustainability services, our Assignments Office for summer information, and more. Collaboration helps build and maintain our Housing core values of creativity and excellence!

Campus partnerships: m

any Residence Life Coordinators partner with campus offices to expand their professional interests and experiences for future aspirations. E

xamples include:

Office of Student Conduct and Community Standards
Dean of Students Office
Student Orientation, Advising, and Registration (SOAR)
Cross College Advising Services
Many other areas depending on individual interests

Residential curricular approach:

adding intentionality to our programming model and building an experience set to scaffold student experiences within our halls has been an ongoing priority for Residence Life.

Our work purposefully creates an environment centered around student success and promotes a positive learning experience.
Job Perks:
$2000 Professional development funds (continued learning courses, professional conferences, books)
12-month positions
Dining discount
Laptop
Remote work (20%)
Live-In Position Additional Perks:
Pet policy (one pet allowed with no restrictions on breeds or sizes for dogs)

Partner/additional occupant policy

Parking permit
Two-bedroom furnished apartment (cable, internet)
Washer/dryer access
Residence Life Committees
Professional staff have the opportunity to serve on one or more departmental committees. Committee assignments are determined by a combination of individual preferences and staffing needs. Committee work promotes professional growth and encourages interdepartmental collaboration.
Time permitting, professional staff also have the ability to join divisional and/or campus-wide committees. In pursuing these opportunities, staff represent Residence Life on a broader scale while also acquiring novel experiences.
Residence Life Specific Committees:
Wisconsin Residential Experience

Inclusion, Diversity, Education, and Advocacy
Student Staff Recruitment and Development
Testimonial:

"I have worked as a large-scale programming coordinator in University Housing for 2 years now. I began working with University Housing and Residence Life when I was a graduate student here at UW Madison. I have always had a passion for higher education, improving the collegiate student experience, and finding a place in UW Madison's Residence Life team allowed me to explore that passion even deeper. After graduating, I decided that my time at UW Madison was not yet over, and I accepted a position that feels as if it had been made for me. Working with the Residence Life team has been a transformative experience for me, both personally and professionally because the person I am and the work that I produce are highly valued and appreciated here. Through my work, I can better positively shape our students' experience through community engagement and programming, as well as grow and develop my own skills and knowledge." — Ashlee Barton, Special Projects Coordinator
Interested in working with Residence Life in University Housing?
Application Assistance
Contact us at hr@housing.wisc.edu or 608-262-2766 if you would like assistance with an application. Don't have a resume? You can submit a resume or a University Housing Work History Document in the online system!
Testimonials:

"I came to UW-Madison in the Residence Life Coordinator role in 2015 and just can't seem to leave- it's a great, supportive place where I feel challenged professionally. We're a large, strong department at a large, strong campus which means that you're never The Only- there's always a whole team of colleagues to help, whether it's a duty call in the middle of the night or a Tuesday afternoon project that you need feedback on. I also appreciate the departmental culture we've curated over the years- we're encouraged to use all of our leave time, everyone has a seat at the table and contributes to the decision-making process, and all contributions are valued, whether they're from a resident, student staff member, or professional." — Kelly Giese, Assistant Director

"While I have only worked at UW-Madison for a short while, it has shown me what a great work environment looks like. I feel seen, supported, and appropriately challenged both as an employee and person. I have witnessed how when we come together, as a department, we can truly make a difference in our halls and on campus for our students and that has been the most rewarding part of this work." — Kaylee Skweres, Residence Life Coordinator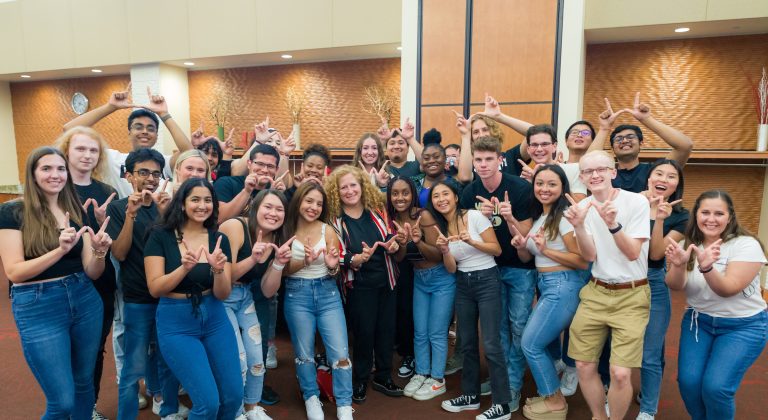 Testimonial
"I have really enjoyed my time working for UW Madison Residence Life thus far! The department truly values work life balance and you as a person outside of this position. I have been able to continue to professionally grow within the department thanks to the ongoing support of my coworkers and leadership. In addition, living in Madison, WI has been wonderful! There is plenty to do here from the restaurant scene to the vast amount of outdoor activities and festivals."

Kaitlyn Abbott, Residence Life Coordinator