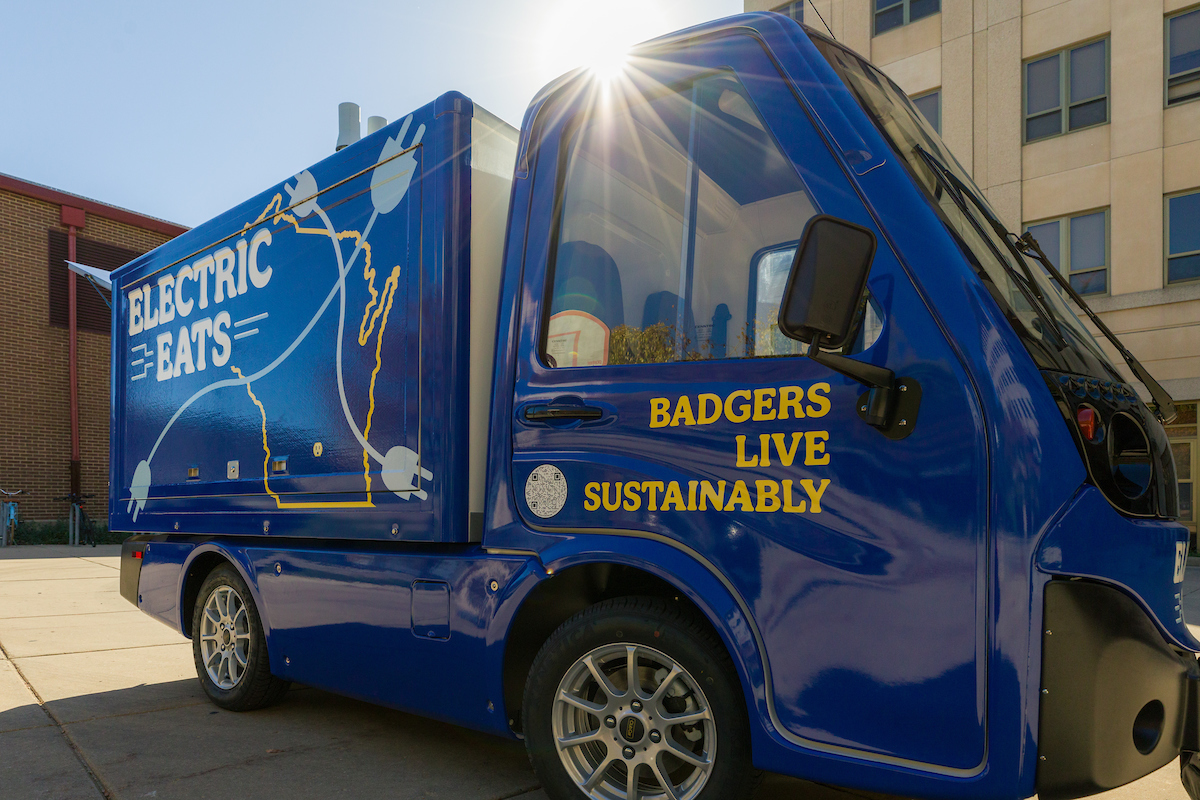 Dining & Culinary Services, part of the Division of University Housing at UW–Madison, launched a new electric and sustainable food truck! The student-run operation was piloted in Spring 2022 and recently launched for full service this fall. Thanks to funding and support from MGE Foundation and the UW–Madison Office of Sustainability Green Fund, Electric Eats offers a variety of responsibly sourced food items in low-waste packaging options to help Badgers live sustainably, even on the go.
Electric Eats has three main sustainability goals:
Carbon-Friendly Operations: Electric Eats offers a sustainable form of mobile food service in a 100% electric vehicle designed by Gallery Carts.
Low-Waste Packaging: The food truck reduces single-use plastic waste associated with on-the-go dining by offering low-waste biodegradable packaging options.
Responsible Purchasing: Electric Eats sources ingredients and products responsibly and considers seasonality in menu planning. The food truck features local and regional foods from around Wisconsin, including produce from our very own UW Student Organic Farm. Vegan and vegetarian menu options are available daily.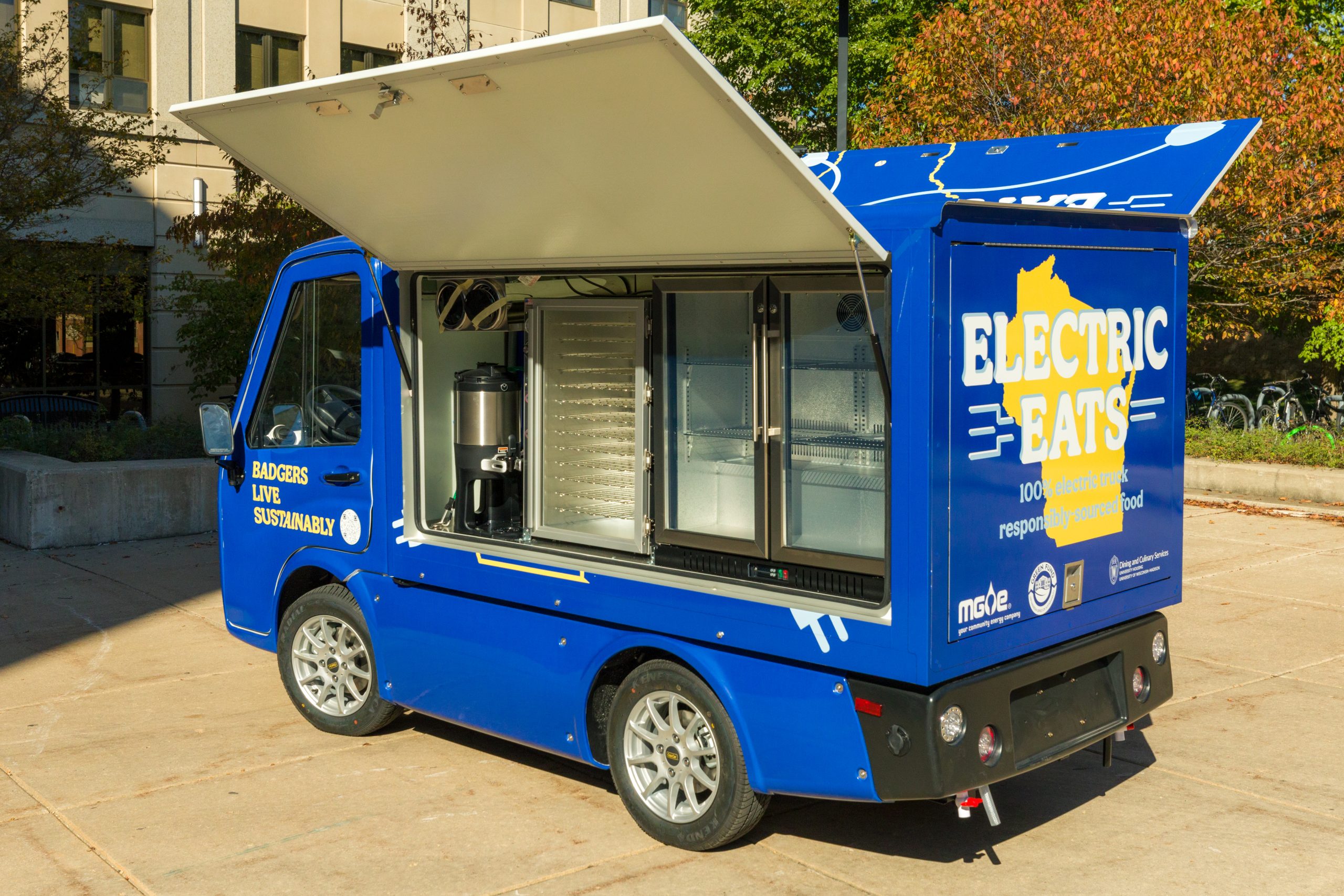 The 100% electric food truck is operationally advised by the Electric Eats Task Force, a group of students and staff who meet regularly to uphold the mission of the truck, assess the targeted sustainability goals, and represent the interests of the truck's internal and external stakeholders. The food truck measures success by calculated carbon savings, local purchasing impact, food waste, and student engagement in food sustainability.
The idea for the truck was embraced with support from across campus. "The Electric Eats project is a great example of various partners coming together to support sustainability, and to bring a great student initiative to reality," said Peter Testory, Director of Dining & Culinary Services at University Housing. "Sustainability is an extremely important topic, and it is great to be part of a team and campus that makes it a priority."
The UW–Madison Green Fund, which supports student ideas to improve campus sustainability, provided partial funding for the initial purchase of the truck and student engagement in the development of Electric Eats. Green Fund Program manager, Ian Aley, shared that "we worked with a life cycle assessment course to make recommendations for lower-impact packaging and students helped plan a menu focused on locally-sourced sustainable foods. Students advocated for this project and wrote the proposal to bring Electric Eats to campus."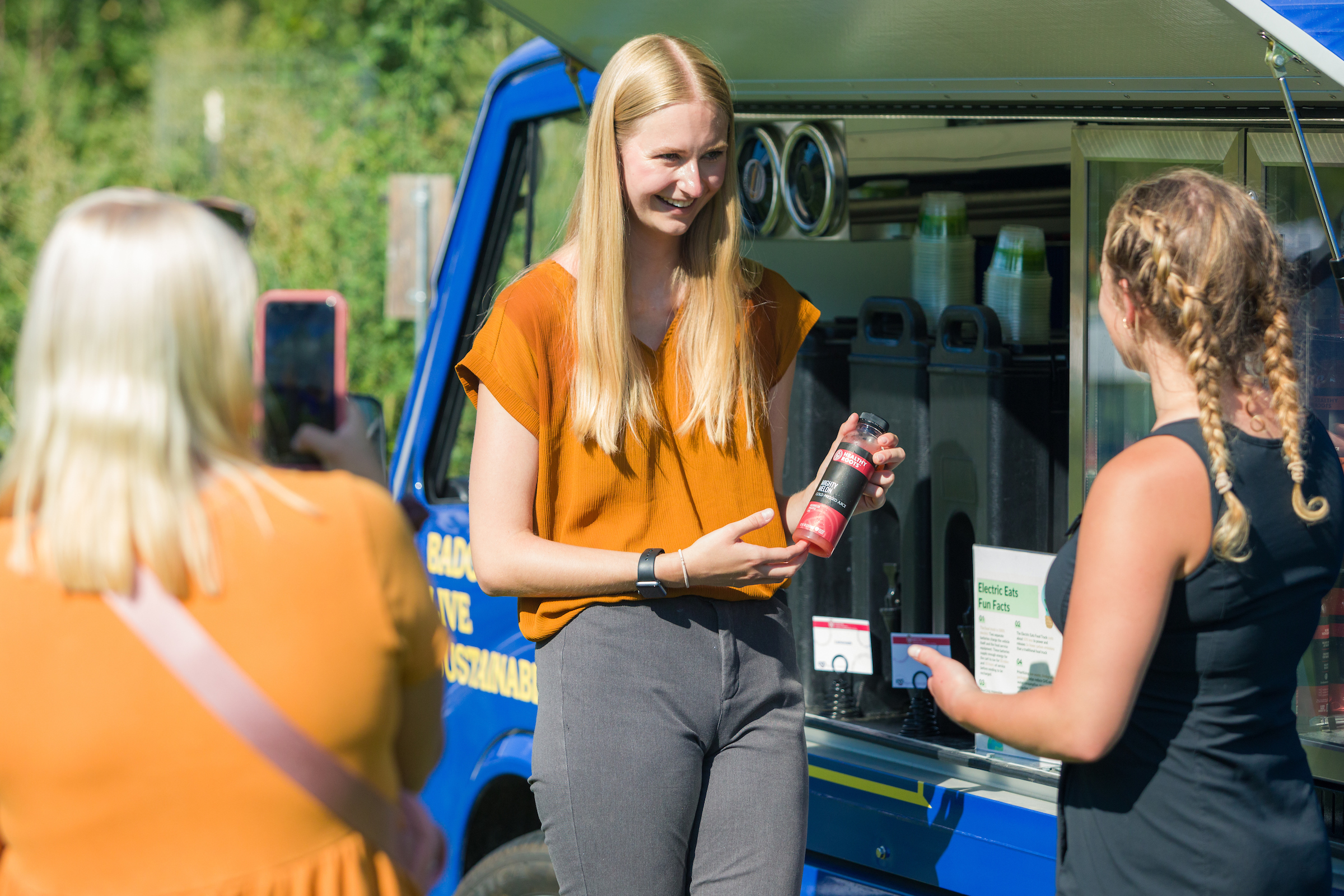 "What's really exciting about this project is the student-driven nature" notes Malorie Garbe, Sustainability Coordinator for Dining & Culinary Services. Electric Eats was proposed by a student (Eloise Petruska, UW–Madison class of 2021), the advisory task force was convened by a student (Olivia Dikeman '24), and the truck is currently operated by two senior UW–Madison students, Libby Breider '23 and Kate Wimmer '23. Involving students in the design and implementation of the truck has contributed to its success and the excitement it generates around campus. Students continue to be involved in the truck by researching sustainable packaging options through coursework, hosting events and initiatives in collaboration with campus departments and student organizations, and celebrating other food sustainability resources throughout campus.
The Electric Eats food truck is currently open for lunch service four days a week at two campus locations and is also available for event bookings on evenings and weekends. Expanded service locations will be available in the Spring 2023 semester. Learn more about hours and upcoming events at the Electric Eats website and Instagram page.