650 Elm Drive | Madison, WI 53706-1127 | Map
246 residents | Mixed coed floors | Double rooms
Opened 1959 | Named after Harold C. Bradley
---
The only exclusively freshmen residence hall on campus, Bradley Residence Hall is a popular option for many students embarking on their Wisconsin Experience at UW-Madison. Bradley is home to the Bradley Learning Community, which focuses on the transition from high school to being a Badger. This high-energy community offers daily events that always give residents something to do when they're out of the classroom. Did we mention that many of these events involve awesome trips and direct, small group contact with faculty from across campus? Because they do.
Bradley is located across the street from the Four Lakes Market (one of five dining markets on campus), tutoring services, a satellite clinic for University Health Services, and a technology learning center all housed within Dejope Residence Hall. Bradley is also nestled right up against beautiful Lake Mendota and green space utilized for many Recreation & Wellbeing sponsored activities. Around 60 percent of residents who live here as a freshman choose to return to University Housing for a second year, and if that doesn't say something great about the experience that residents have while living here, we don't know what will!
This is an accordion element with a series of buttons that open and close related content panels.
Building Features
Nearest Dining: Four Lakes Market
Classroom: First Floor, Dejope Residence Hall
Academic Advising: First Floor, Dejope Residence Hall
Hall Desk: First Floor, Dejope Residence Hall
Kitchen: Lower Level
Laundry: Lower Level
Music Practice Room: Lower Level
Carpeting in Resident Rooms: Yes
Air Conditioning in Resident Rooms: No
Room Rate: Low
Neighborhood: Lakeshore
Bathrooms Shared By: Floor Wing
Dimensions
Room Dimensions: ~ 15′ 10″ x 10′ 7″
Space Under Lofted Bed: Futon/loveseat up to 79″ wide fits under bed
Lockable Drawer Dimensions: 31.5″ x 19″ x 5.5″
Mattress: 36″ x 80″
Room Guides
Events in Bradley Hall
Each residence hall has many events that occur throughout the year. Below are some of the events and activities that residents have enjoyed in previous years:
Bradley Interest Groups (BIGS)
Bradley Board
Trips to Six Flags
Spring Cake Challenge
Roundtable Service Projects
Trips to the climbing gym
Communities in Bradley
Bradley Learning Community (BLC)
(All of Bradley Residence Hall)
Transition to college in this high-energy community exclusively for freshmen, with fun, daily programs to build connections and get involved on campus.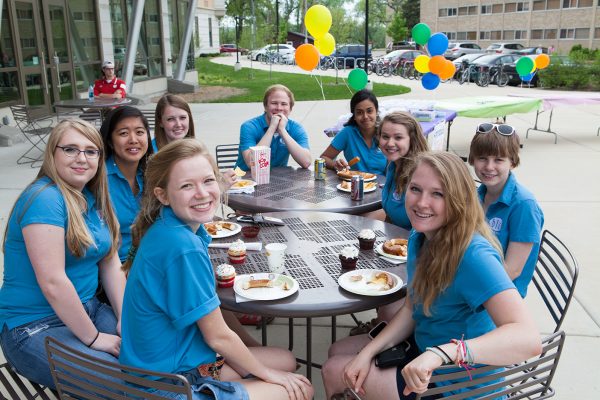 Room Types
Double
Features: Two closets, two beds, two bookcases, two desks, two desk chairs, two dressers, refrigerator
Typical Dimensions: 10′ 7″ x 15′ 10″ (rooms vary in size)
Bradley Double 2d Room Layout
Bradley Double 3d Room Layout
Bradley Double 2d Room Dimensions
*Typical room dimensions shown. Rooms vary slightly. Please note: the above room layouts were created before all rooms in Bradley had carpeting installed in summer 2019.

Rates
The rates listed below are per resident and reflect the projected annual room & board rates in Bradley Residence Hall for a new student for the 2021-22 academic year. For a full listing of residence hall rates and what is included, visit our Billing & Rates page.
2021-22 Rates - New Residents
| Residence Hall | Building | Room Type | Learning Community | Tier 1 Dining Plan | Tier 2 Dining Plan | Tier 3 Dining Plan |
| --- | --- | --- | --- | --- | --- | --- |
| Residence Hall | Building | Room Type | Learning Community | Tier 1 Dining Plan | Tier 2 Dining Plan | Tier 3 Dining Plan |
| Adams | Adams | Single Type A | | 11,600 | 12,100 | 13,000 |
| Adams | Adams | Single Type A | ILC | 11,850 | 12,350 | 13,250 |
| Adams | Adams | Single Type B | | 11,100 | 11,600 | 12,500 |
| Adams | Adams | Single Type B | ILC | 11,350 | 11,850 | 12,750 |
| Adams | Adams | Double Type A | | 11,300 | 11,800 | 12,700 |
| Adams | Adams | Double Type A | ILC | 11,550 | 12,050 | 12,950 |
| Adams | Adams | Double Type B | | 10,500 | 11,000 | 11,900 |
| Adams | Adams | Double Type B | ILC | 10,750 | 11,250 | 12,150 |
| Adams | Adams | Triple | | 10,400 | 10,900 | 11,800 |
| Adams | Adams | Triple | ILC | 10,650 | 11,150 | 12,050 |
| Barnard | Barnard | Single | | 11,600 | 12,100 | 13,000 |
| Barnard | Barnard | Double Type A | | 10,700 | 11,200 | 12,100 |
| Barnard | Barnard | Double Type B | | 11,300 | 11,800 | 12,700 |
| Barnard | Barnard | Double with Bath | | 11,500 | 12,000 | 12,900 |
| Bradley | Bradley | Double | BLC | 10,700 | 11,200 | 12,100 |
| Chadbourne | Chadbourne | Double | CRC | 11,350 | 11,850 | 12,750 |
| Cole | Cole | Single | | 11,600 | 12,100 | 13,000 |
| Cole | Cole | Single | BioHouse | 11,800 | 12,300 | 13,200 |
| Cole | Cole | Double | | 10,500 | 11,000 | 11,900 |
| Cole | Cole | Double | BioHouse | 10,700 | 11,200 | 12,100 |
| Davis | Davis | Single Type A | | 11,600 | 12,100 | 13,000 |
| Davis | Davis | Single Type B | | 11,100 | 11,600 | 12,500 |
| Davis | Davis | Double | | 10,500 | 11,000 | 11,900 |
| Davis | Davis | Double with Bath | | 11,500 | 12,000 | 12,900 |
| Dejope | Dejope | Double | | 11,600 | 12,100 | 13,000 |
| Dejope | Dejope | Triple | | 10,400 | 10,900 | 11,800 |
| Dejope | Dejope | Quad | | 10,400 | 10,900 | 11,800 |
| Humphrey | Humphrey | Double | | 10,500 | 11,000 | 11,900 |
| Jorns | Jorns | Double | | 10,500 | 11,000 | 11,900 |
| Kronshage | Kronshage | Double | | 10,500 | 11,000 | 11,900 |
| Leopold | Leopold | Double | | 11,600 | 12,100 | 13,000 |
| Leopold | Leopold | Double | GreenHouse | 11,800 | 12,300 | 13,200 |
| Leopold | Leopold | Triple | | 10,400 | 10,900 | 11,800 |
| Leopold | Leopold | Triple | GreenHouse | 10,600 | 11,100 | 12,000 |
| Merit | Merit | Single Type A | | 11,100 | 11,600 | 12,500 |
| Merit | Merit | Single Type B | | 11,600 | 12,100 | 13,000 |
| Merit | Merit | Double with Bath | | 11,500 | 12,000 | 12,900 |
| Merit | Merit | Triple with Bath | | 10,700 | 11,200 | 12,100 |
| Ogg | Ogg | Double | | 11,600 | 12,100 | 13,000 |
| Ogg | Ogg | Double | Business Connect | 11,800 | 12,300 | 13,200 |
| Ogg | Ogg | Double | The Studio | 11,800 | 12,300 | 13,200 |
| Ogg | Ogg | Double with Bath | | 11,800 | 12,300 | 13,200 |
| Ogg | Ogg | Double with Bath | Business Connect | 12,000 | 12,500 | 13,400 |
| Ogg | Ogg | Double with Bath | The Studio | 12,000 | 12,500 | 13,400 |
| Ogg | Ogg | Triple | | 10,400 | 10,900 | 11,800 |
| Ogg | Ogg | Triple | Business Connect | 10,400 | 10,900 | 11,800 |
| Ogg | Ogg | Triple | The Studio | 10,600 | 11,100 | 12,000 |
| Phillips | Phillips | Single with Bath | | 11,800 | 12,300 | 13,200 |
| Phillips | Phillips | Single with Bath | Open House | 12,000 | 12,500 | 13,400 |
| Phillips | Phillips | Double with Bath | | 11,500 | 12,000 | 12,900 |
| Phillips | Phillips | Double with Bath | Open House | 11,700 | 12,200 | 13,100 |
| Sellery# | Sellery | Single | | 11,600 | 12,100 | 13,000 |
| Sellery# | Sellery | Single | StartUp | 11,800 | 12,300 | 13,200 |
| Sellery# | Sellery | Double | | 11,100 | 11,600 | 12,500 |
| Sellery# | Sellery | Double | StartUp | 11,300 | 11,800 | 12,700 |
| Slichter | Slichter | Double | | 10,500 | 11,000 | 11,900 |
| Slichter | Slichter | Double with Bath | | 11,550 | 12,050 | 12,950 |
| Smith | Smith | Single Type A | | 12,400 | 12,900 | 13,800 |
| Smith | Smith | Single Type B | | 11,600 | 12,100 | 13,000 |
| Smith | Smith | Single with Bath | | 12,700 | 13,200 | 14,100 |
| Smith | Smith | Double Type A | | 11,600 | 12,100 | 13,000 |
| Smith | Smith | Double Type B | | 11,100 | 11,600 | 12,500 |
| Smith | Smith | Double with Bath | | 11,800 | 12,300 | 13,200 |
| Smith | Smith | Triple | | 10,400 | 10,900 | 11,800 |
| Sullivan | Sullivan | Single | | 11,600 | 12,100 | 13,000 |
| Sullivan | Sullivan | Double | | 10,500 | 11,000 | 11,900 |
| Tripp | Tripp | Single Type A | | 11,600 | 12,100 | 13,000 |
| Tripp | Tripp | Single Type B | | 11,100 | 11,600 | 12,500 |
| Tripp | Tripp | Double Type A | | 11,300 | 11,800 | 12,700 |
| Tripp | Tripp | Double Type B | | 10,500 | 11,000 | 11,900 |
| Tripp | Tripp | Triple | | 10,400 | 10,900 | 11,800 |
| Waters | Waters | Single | | 11,600 | 12,100 | 13,000 |
| Waters | Waters | Single | WISE | 11,850 | 12,350 | 13,250 |
| Waters | Waters | Single with Bath | | 11,800 | 12,300 | 13,200 |
| Waters | Waters | Single with Bath | WISE | 12,050 | 12,550 | 13,450 |
| Waters | Waters | Double | | 10,700 | 11,200 | 12,100 |
| Waters | Waters | Double | WISE | 10,950 | 11,450 | 12,350 |
| Waters | Waters | Double with Bath | | 11,500 | 12,000 | 12,900 |
| Witte | Witte | Double | | 11,300 | 11,800 | 12,700 |
| Witte | Witte | Double | MLC | 11,500 | 12,000 | 12,900 |
| Witte | Witte | Quad | | 10,400 | 10,900 | 11,800 |
| Temporary | Temporary | Double | | 10,200 | 10,700 | 11,600 |
| Temporary | Temporary | Triple | | 10,200 | 10,700 | 11,600 |
| Temporary | Temporary | Quad | | 10,200 | 10,700 | 11,600 |