1635 Kronshage Drive | Madison, WI 53706-1203 | Map
181 residents | Mixed coed floors | Double and triple rooms
Opened 2013 | Named after Aldo Leopold
---
Leopold Residence Hall brings a whole new meaning to sustainable living. Since opening in August 2013, University Housing's newest residence hall has been home to the GreenHouse Learning Community, which is designed for students interested in thinking, working, and living in more sustainable ways — principles that guided Aldo Leopold's career. This community even has a 1,000 sq. ft. greenhouse on the fourth floor of the building. How neat is that? Leopold earned LEED Gold-level certification in July 2014, which further proves that it's making a difference in efficiency and environmental quality on campus and in University Housing.
The five-story residence hall is near Lake Mendota, Allen Centennial Gardens, and Steenbock Library. Leopold residents are also near both Carson's Market and the Four Lakes Market (two of five dining markets on campus). Efficiency is a theme of this residence hall, as Leopold has rooftop panels to assist with hot water heating as well as electricity and water consumption monitors throughout the building. Each carpeted resident room is also equipped with a walk-in closet and individual heat and air conditioning controls.
This is an accordion element with a series of buttons that open and close related content panels.
Building Features
Nearest Dining: Carson's Market
Classroom: Lower Level
Academic Advising: First Floor, Dejope Residence Hall
Hall Desk: First Floor, Frank Holt Center
Kitchen: Attached to Lounges on Each Resident Floor
Laundry: Lower Level
Music Practice Room: Lower Levels, Cole and Sullivan Residence Halls
Carpeting in Resident Rooms: Yes
Air Conditioning in Resident Rooms: Yes
Room Rate: High
Neighborhood: Lakeshore
Bathrooms Shared By: Cluster of 4-5 rooms
Dimensions
Room Dimensions: ~ 13′ 4″ x 12′ 6″
Space Under Lofted Bed: Futon/loveseat up to 79″ wide fits under bed
Lockable Drawer Dimensions: 18.5″ x 9.5″ x 7.5″
Mattress: 36″ x 80″
Room Guides
Events in Leopold Hall
Each residence hall has many events that occur throughout the year. Below are some of the events and activities that residents have enjoyed in previous years:
Nacho Average Bingo (Bingo and Nachos)
Team Trivia Night
Knitting Workshop and Groups
Devil's Lake Trip
Swing Dance Night
International Film Series
Chicago Trip
Brewers Game Trip
Food and Cooking Demonstrations
Dodgeball Tournament
Float n' Flick – Movie Screenings at the Natatorium
Corn Hole and Corn Roast
Communities in Leopold
GreenHouse Learning Community
(Two floors of Leopold Residence Hall)
Engage in sustainability efforts and get hands-on experience in gardening, cooking locally, conservation, repairing bicycles, restoring prairies, and more.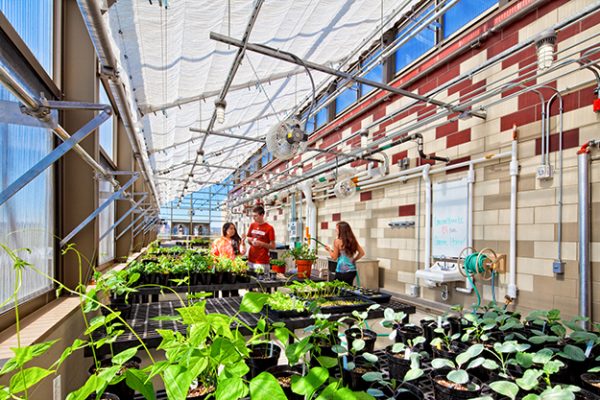 Room Types
Double
Features: Walk-in closet, two beds, two bookcases, two desks, two desk chairs, refrigerator
Typical Dimensions: 13′ 4″ x 12′ 6″ (rooms vary in size)
Leopold Double 2d Room Layout
Leopold Double 3d Room Layout
Leopold Double 2d Room Dimensions
Triple
Features: Three beds, three bookcases, three dressers, three desks, three desk chairs, two refrigerators
*Typical room dimensions shown. Rooms vary slightly.
Rates
The rates listed below are per resident and reflect the projected annual room & board rates in Leopold Residence Hall for a new student for the 2021-22 academic year. For a full listing of residence hall rates and what is included, visit our Billing & Rates page.
2021-22 Rates - New Residents
| Residence Hall | Building | Room Type | Learning Community | Tier 1 Dining Plan | Tier 2 Dining Plan | Tier 3 Dining Plan |
| --- | --- | --- | --- | --- | --- | --- |
| Residence Hall | Building | Room Type | Learning Community | Tier 1 Dining Plan | Tier 2 Dining Plan | Tier 3 Dining Plan |
| Adams | Adams | Single Type A | | 11,600 | 12,100 | 13,000 |
| Adams | Adams | Single Type A | ILC | 11,850 | 12,350 | 13,250 |
| Adams | Adams | Single Type B | | 11,100 | 11,600 | 12,500 |
| Adams | Adams | Single Type B | ILC | 11,350 | 11,850 | 12,750 |
| Adams | Adams | Double Type A | | 11,300 | 11,800 | 12,700 |
| Adams | Adams | Double Type A | ILC | 11,550 | 12,050 | 12,950 |
| Adams | Adams | Double Type B | | 10,500 | 11,000 | 11,900 |
| Adams | Adams | Double Type B | ILC | 10,750 | 11,250 | 12,150 |
| Adams | Adams | Triple | | 10,400 | 10,900 | 11,800 |
| Adams | Adams | Triple | ILC | 10,650 | 11,150 | 12,050 |
| Barnard | Barnard | Single | | 11,600 | 12,100 | 13,000 |
| Barnard | Barnard | Double Type A | | 10,700 | 11,200 | 12,100 |
| Barnard | Barnard | Double Type B | | 11,300 | 11,800 | 12,700 |
| Barnard | Barnard | Double with Bath | | 11,500 | 12,000 | 12,900 |
| Bradley | Bradley | Double | BLC | 10,700 | 11,200 | 12,100 |
| Chadbourne | Chadbourne | Double | CRC | 11,350 | 11,850 | 12,750 |
| Cole | Cole | Single | | 11,600 | 12,100 | 13,000 |
| Cole | Cole | Single | BioHouse | 11,800 | 12,300 | 13,200 |
| Cole | Cole | Double | | 10,500 | 11,000 | 11,900 |
| Cole | Cole | Double | BioHouse | 10,700 | 11,200 | 12,100 |
| Davis | Davis | Single Type A | | 11,600 | 12,100 | 13,000 |
| Davis | Davis | Single Type B | | 11,100 | 11,600 | 12,500 |
| Davis | Davis | Double | | 10,500 | 11,000 | 11,900 |
| Davis | Davis | Double with Bath | | 11,500 | 12,000 | 12,900 |
| Dejope | Dejope | Double | | 11,600 | 12,100 | 13,000 |
| Dejope | Dejope | Triple | | 10,400 | 10,900 | 11,800 |
| Dejope | Dejope | Quad | | 10,400 | 10,900 | 11,800 |
| Humphrey | Humphrey | Double | | 10,500 | 11,000 | 11,900 |
| Jorns | Jorns | Double | | 10,500 | 11,000 | 11,900 |
| Kronshage | Kronshage | Double | | 10,500 | 11,000 | 11,900 |
| Leopold | Leopold | Double | | 11,600 | 12,100 | 13,000 |
| Leopold | Leopold | Double | GreenHouse | 11,800 | 12,300 | 13,200 |
| Leopold | Leopold | Triple | | 10,400 | 10,900 | 11,800 |
| Leopold | Leopold | Triple | GreenHouse | 10,600 | 11,100 | 12,000 |
| Lowell | Lowell | Single with Bath | | 12,700 | 13,200 | 14,100 |
| Lowell | Lowell | Double with Bath | | 11,800 | 12,300 | 13,200 |
| Lowell | Lowell | Triple with Bath Type A | | 11,100 | 11,600 | 12,500 |
| Lowell | Lowell | Triple with Bath Type B | | 10,700 | 11,200 | 12,100 |
| Merit | Merit | Single Type A | | 11,100 | 11,600 | 12,500 |
| Merit | Merit | Single Type B | | 11,600 | 12,100 | 13,000 |
| Merit | Merit | Double with Bath | | 11,500 | 12,000 | 12,900 |
| Merit | Merit | Triple with Bath | | 10,700 | 11,200 | 12,100 |
| Ogg | Ogg | Double | | 11,600 | 12,100 | 13,000 |
| Ogg | Ogg | Double | Business Connect | 11,800 | 12,300 | 13,200 |
| Ogg | Ogg | Double | The Studio | 11,800 | 12,300 | 13,200 |
| Ogg | Ogg | Double with Bath | | 11,800 | 12,300 | 13,200 |
| Ogg | Ogg | Double with Bath | Business Connect | 12,000 | 12,500 | 13,400 |
| Ogg | Ogg | Double with Bath | The Studio | 12,000 | 12,500 | 13,400 |
| Ogg | Ogg | Triple | | 10,400 | 10,900 | 11,800 |
| Ogg | Ogg | Triple | Business Connect | 10,400 | 10,900 | 11,800 |
| Ogg | Ogg | Triple | The Studio | 10,600 | 11,100 | 12,000 |
| Phillips | Phillips | Single with Bath | | 11,800 | 12,300 | 13,200 |
| Phillips | Phillips | Single with Bath | Open House | 12,000 | 12,500 | 13,400 |
| Phillips | Phillips | Double with Bath | | 11,500 | 12,000 | 12,900 |
| Phillips | Phillips | Double with Bath | Open House | 11,700 | 12,200 | 13,100 |
| Sellery# | Sellery | Single | | 11,600 | 12,100 | 13,000 |
| Sellery# | Sellery | Single | StartUp | 11,800 | 12,300 | 13,200 |
| Sellery# | Sellery | Double | | 11,100 | 11,600 | 12,500 |
| Sellery# | Sellery | Double | StartUp | 11,300 | 11,800 | 12,700 |
| Slichter | Slichter | Double | | 10,500 | 11,000 | 11,900 |
| Slichter | Slichter | Double with Bath | | 11,550 | 12,050 | 12,950 |
| Smith | Smith | Single Type A | | 12,400 | 12,900 | 13,800 |
| Smith | Smith | Single Type B | | 11,600 | 12,100 | 13,000 |
| Smith | Smith | Single with Bath | | 12,700 | 13,200 | 14,100 |
| Smith | Smith | Double Type A | | 11,600 | 12,100 | 13,000 |
| Smith | Smith | Double Type B | | 11,100 | 11,600 | 12,500 |
| Smith | Smith | Double with Bath | | 11,800 | 12,300 | 13,200 |
| Smith | Smith | Triple | | 10,400 | 10,900 | 11,800 |
| Sullivan | Sullivan | Single | | 11,600 | 12,100 | 13,000 |
| Sullivan | Sullivan | Double | | 10,500 | 11,000 | 11,900 |
| Tripp | Tripp | Single Type A | | 11,600 | 12,100 | 13,000 |
| Tripp | Tripp | Single Type B | | 11,100 | 11,600 | 12,500 |
| Tripp | Tripp | Double Type A | | 11,300 | 11,800 | 12,700 |
| Tripp | Tripp | Double Type B | | 10,500 | 11,000 | 11,900 |
| Tripp | Tripp | Triple | | 10,400 | 10,900 | 11,800 |
| Waters | Waters | Single | | 11,600 | 12,100 | 13,000 |
| Waters | Waters | Single | WISE | 11,850 | 12,350 | 13,250 |
| Waters | Waters | Single with Bath | | 11,800 | 12,300 | 13,200 |
| Waters | Waters | Single with Bath | WISE | 12,050 | 12,550 | 13,450 |
| Waters | Waters | Double | | 10,700 | 11,200 | 12,100 |
| Waters | Waters | Double | WISE | 10,950 | 11,450 | 12,350 |
| Waters | Waters | Double with Bath | | 11,500 | 12,000 | 12,900 |
| Witte | Witte | Double | | 11,300 | 11,800 | 12,700 |
| Witte | Witte | Double | MLC | 11,500 | 12,000 | 12,900 |
| Witte | Witte | Quad | | 10,400 | 10,900 | 11,800 |
| Temporary | Temporary | Double | | 10,200 | 10,700 | 11,600 |
| Temporary | Temporary | Triple | | 10,200 | 10,700 | 11,600 |
| Temporary | Temporary | Quad | | 10,200 | 10,700 | 11,600 |