1200 Observatory Drive | Madison, WI 53706-1212 | Map
504 residents | Coed by wing | Double rooms
Opened 1940 | Named after Elizabeth Waters
---
Waters Residence Hall is centrally located in the heart of campus along the shore of Lake Mendota. Waters provides convenient access to libraries, the student unions, classrooms, and local Madison attractions, though with everything going on inside, you might not even need to leave the building.
Residents of Waters have a full array of services under one roof, including an in-house dining market (Liz's Market), on-site tutoring, and study spaces. Waters also has its own set of academic advisors from Cross-College Advising Services (CCAS) stationed inside the building. Waters is also home to Women in Science and Engineering (WISE), a learning community that provides a stimulating environment for women interested in science, technology, engineering, or math to make strong academic and personal connections with each other as well as UW-Madison staff and faculty who share their interests.
The diverse resident population of new and continuing students promotes a strong sense of community and makes living in Waters a memorable experience. While Waters used to house exclusively female residents, it was changed to co-ed in 2006 and has been a favorite among both men and women due to its location, resident room size, and convenience of amenities.
This is an accordion element with a series of buttons that open and close related content panels.
Building Features
Nearest Dining: Liz's Market
Classroom: Lower Level, Leopold Residence Hall
Academic Advising: First Floor, Ingraham Hall
Hall Desk: Main Lobby Area
Kitchen: West of Main Lounge
Laundry: Across from Main Lounge
Music Practice Room: Main Lounge Area
Carpeting in Resident Rooms: Yes
Air Conditioning in Resident Rooms: No
Room Rate: Mid
Neighborhood: Lakeshore
Bathrooms Shared By: Floor wing
Dimensions
Room Dimensions: ~ 17′ 6″ x 11′ 6″
Space Under Lofted Bed: Futon/loveseat up to 56″ wide fits under bed
Lockable Drawer Dimensions: 32″ x 18.75″ x 3.5″
Mattress: 36″ x 80″
Room Guides
Events in Waters Hall
Each residence hall has many events that occur throughout the year. Below are some of the events and activities that residents have enjoyed in previous years:
Liz Olympics
Elizabeth Waters Hall Association (EWHA) T-shirt Tie Dye
Speed Friending
Devil's Lake Trip
Brewers Game Trip
Crafternoons
Elizabeth Waters Convocation
Community Cash Auctions
Coffee House
Trivia Nights
Communities in Waters
Women in Science & Engineering (WISE)
(Two houses of Waters Residence Hall)
Connect with fellow women interested in science, technology, engineering, or math, and get a behind-the-scenes view of all that a large research university offers.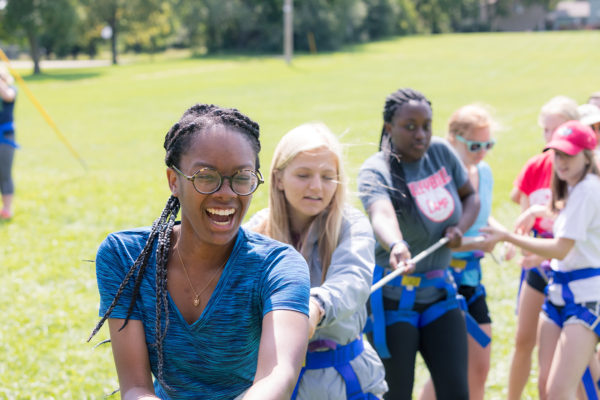 Room Types
Double
Features: Two built-in closets, two beds, two bookcases, two desks, two desk chairs, two dressers, refrigerator
Typical Dimensions: 17′ 6″ x 11′ 6″ (rooms vary in size)
Waters Double 2d Room Layout
Waters Double 3d Room Layout
Waters Double 2d Room Dimensions
Waters Bathroom 2d Layout
*Typical room dimensions shown. Rooms vary slightly.
Rates
The rates listed below are per resident and reflect the projected annual room & board rates in Waters Residence Hall for a new student for the 2021-22 academic year. For a full listing of residence hall rates and what is included, visit our Billing & Rates page.
2021-22 Rates - New Residents
| Residence Hall | Building | Room Type | Learning Community | Tier 1 Dining Plan | Tier 2 Dining Plan | Tier 3 Dining Plan |
| --- | --- | --- | --- | --- | --- | --- |
| Residence Hall | Building | Room Type | Learning Community | Tier 1 Dining Plan | Tier 2 Dining Plan | Tier 3 Dining Plan |
| Adams | Adams | Single Type A | | 11,600 | 12,100 | 13,000 |
| Adams | Adams | Single Type A | ILC | 11,850 | 12,350 | 13,250 |
| Adams | Adams | Single Type B | | 11,100 | 11,600 | 12,500 |
| Adams | Adams | Single Type B | ILC | 11,350 | 11,850 | 12,750 |
| Adams | Adams | Double Type A | | 11,300 | 11,800 | 12,700 |
| Adams | Adams | Double Type A | ILC | 11,550 | 12,050 | 12,950 |
| Adams | Adams | Double Type B | | 10,500 | 11,000 | 11,900 |
| Adams | Adams | Double Type B | ILC | 10,750 | 11,250 | 12,150 |
| Adams | Adams | Triple | | 10,400 | 10,900 | 11,800 |
| Adams | Adams | Triple | ILC | 10,650 | 11,150 | 12,050 |
| Barnard | Barnard | Single | | 11,600 | 12,100 | 13,000 |
| Barnard | Barnard | Double Type A | | 10,700 | 11,200 | 12,100 |
| Barnard | Barnard | Double Type B | | 11,300 | 11,800 | 12,700 |
| Barnard | Barnard | Double with Bath | | 11,500 | 12,000 | 12,900 |
| Bradley | Bradley | Double | BLC | 10,700 | 11,200 | 12,100 |
| Chadbourne | Chadbourne | Double | CRC | 11,350 | 11,850 | 12,750 |
| Cole | Cole | Single | | 11,600 | 12,100 | 13,000 |
| Cole | Cole | Single | BioHouse | 11,800 | 12,300 | 13,200 |
| Cole | Cole | Double | | 10,500 | 11,000 | 11,900 |
| Cole | Cole | Double | BioHouse | 10,700 | 11,200 | 12,100 |
| Davis | Davis | Single Type A | | 11,600 | 12,100 | 13,000 |
| Davis | Davis | Single Type B | | 11,100 | 11,600 | 12,500 |
| Davis | Davis | Double | | 10,500 | 11,000 | 11,900 |
| Davis | Davis | Double with Bath | | 11,500 | 12,000 | 12,900 |
| Dejope | Dejope | Double | | 11,600 | 12,100 | 13,000 |
| Dejope | Dejope | Triple | | 10,400 | 10,900 | 11,800 |
| Dejope | Dejope | Quad | | 10,400 | 10,900 | 11,800 |
| Humphrey | Humphrey | Double | | 10,500 | 11,000 | 11,900 |
| Jorns | Jorns | Double | | 10,500 | 11,000 | 11,900 |
| Kronshage | Kronshage | Double | | 10,500 | 11,000 | 11,900 |
| Leopold | Leopold | Double | | 11,600 | 12,100 | 13,000 |
| Leopold | Leopold | Double | GreenHouse | 11,800 | 12,300 | 13,200 |
| Leopold | Leopold | Triple | | 10,400 | 10,900 | 11,800 |
| Leopold | Leopold | Triple | GreenHouse | 10,600 | 11,100 | 12,000 |
| Lowell | Lowell | Single with Bath | | 12,700 | 13,200 | 14,100 |
| Lowell | Lowell | Double with Bath | | 11,800 | 12,300 | 13,200 |
| Lowell | Lowell | Triple with Bath Type A | | 11,100 | 11,600 | 12,500 |
| Lowell | Lowell | Triple with Bath Type B | | 10,700 | 11,200 | 12,100 |
| Merit | Merit | Single Type A | | 11,100 | 11,600 | 12,500 |
| Merit | Merit | Single Type B | | 11,600 | 12,100 | 13,000 |
| Merit | Merit | Double with Bath | | 11,500 | 12,000 | 12,900 |
| Merit | Merit | Triple with Bath | | 10,700 | 11,200 | 12,100 |
| Ogg | Ogg | Double | | 11,600 | 12,100 | 13,000 |
| Ogg | Ogg | Double | Business Connect | 11,800 | 12,300 | 13,200 |
| Ogg | Ogg | Double | The Studio | 11,800 | 12,300 | 13,200 |
| Ogg | Ogg | Double with Bath | | 11,800 | 12,300 | 13,200 |
| Ogg | Ogg | Double with Bath | Business Connect | 12,000 | 12,500 | 13,400 |
| Ogg | Ogg | Double with Bath | The Studio | 12,000 | 12,500 | 13,400 |
| Ogg | Ogg | Triple | | 10,400 | 10,900 | 11,800 |
| Ogg | Ogg | Triple | Business Connect | 10,400 | 10,900 | 11,800 |
| Ogg | Ogg | Triple | The Studio | 10,600 | 11,100 | 12,000 |
| Phillips | Phillips | Single with Bath | | 11,800 | 12,300 | 13,200 |
| Phillips | Phillips | Single with Bath | Open House | 12,000 | 12,500 | 13,400 |
| Phillips | Phillips | Double with Bath | | 11,500 | 12,000 | 12,900 |
| Phillips | Phillips | Double with Bath | Open House | 11,700 | 12,200 | 13,100 |
| Sellery# | Sellery | Single | | 11,600 | 12,100 | 13,000 |
| Sellery# | Sellery | Single | StartUp | 11,800 | 12,300 | 13,200 |
| Sellery# | Sellery | Double | | 11,100 | 11,600 | 12,500 |
| Sellery# | Sellery | Double | StartUp | 11,300 | 11,800 | 12,700 |
| Slichter | Slichter | Double | | 10,500 | 11,000 | 11,900 |
| Slichter | Slichter | Double with Bath | | 11,550 | 12,050 | 12,950 |
| Smith | Smith | Single Type A | | 12,400 | 12,900 | 13,800 |
| Smith | Smith | Single Type B | | 11,600 | 12,100 | 13,000 |
| Smith | Smith | Single with Bath | | 12,700 | 13,200 | 14,100 |
| Smith | Smith | Double Type A | | 11,600 | 12,100 | 13,000 |
| Smith | Smith | Double Type B | | 11,100 | 11,600 | 12,500 |
| Smith | Smith | Double with Bath | | 11,800 | 12,300 | 13,200 |
| Smith | Smith | Triple | | 10,400 | 10,900 | 11,800 |
| Sullivan | Sullivan | Single | | 11,600 | 12,100 | 13,000 |
| Sullivan | Sullivan | Double | | 10,500 | 11,000 | 11,900 |
| Tripp | Tripp | Single Type A | | 11,600 | 12,100 | 13,000 |
| Tripp | Tripp | Single Type B | | 11,100 | 11,600 | 12,500 |
| Tripp | Tripp | Double Type A | | 11,300 | 11,800 | 12,700 |
| Tripp | Tripp | Double Type B | | 10,500 | 11,000 | 11,900 |
| Tripp | Tripp | Triple | | 10,400 | 10,900 | 11,800 |
| Waters | Waters | Single | | 11,600 | 12,100 | 13,000 |
| Waters | Waters | Single | WISE | 11,850 | 12,350 | 13,250 |
| Waters | Waters | Single with Bath | | 11,800 | 12,300 | 13,200 |
| Waters | Waters | Single with Bath | WISE | 12,050 | 12,550 | 13,450 |
| Waters | Waters | Double | | 10,700 | 11,200 | 12,100 |
| Waters | Waters | Double | WISE | 10,950 | 11,450 | 12,350 |
| Waters | Waters | Double with Bath | | 11,500 | 12,000 | 12,900 |
| Witte | Witte | Double | | 11,300 | 11,800 | 12,700 |
| Witte | Witte | Double | MLC | 11,500 | 12,000 | 12,900 |
| Witte | Witte | Quad | | 10,400 | 10,900 | 11,800 |
| Temporary | Temporary | Double | | 10,200 | 10,700 | 11,600 |
| Temporary | Temporary | Triple | | 10,200 | 10,700 | 11,600 |
| Temporary | Temporary | Quad | | 10,200 | 10,700 | 11,600 |